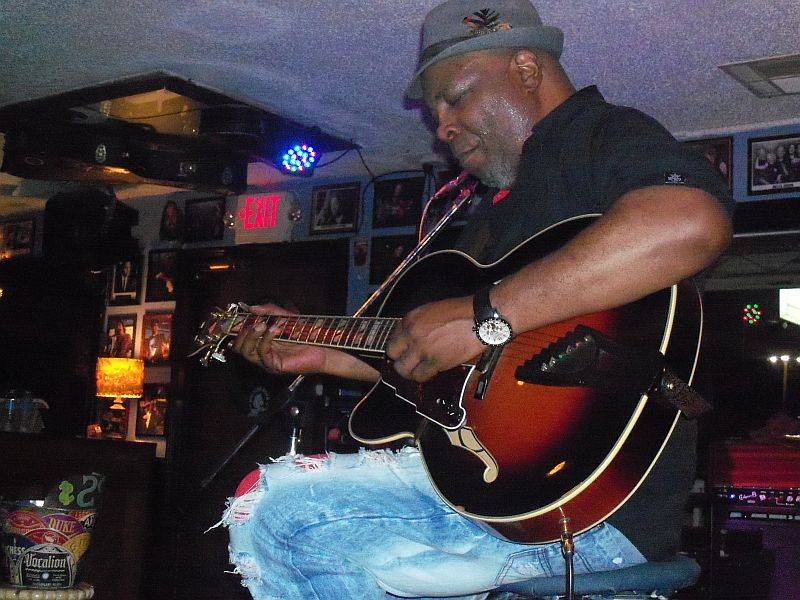 Grant Green Jr. started out the evening playing a bluesy,soulful instrumental,, showcasing his phenomenal skills on electric guitar and the excellent musicianship of his fellow players, Dave Ellington on keyboards and Adam Goodhue on drums . They are all great instrumentalists, but Green also has a warm and evocative voice and it's only a couple of songs in when he confides, "This has got me in a Motown mood, I don't know why,"and it is off down memory lane for most of us.as he launches into tunes like "Ooh Baby, Baby" (That's a BIll Robinson tune,"he explains, revealing his intimate Detroit roootss by not identifying it as a "Smokey"Robinson tune ) and the immortal "My Girl."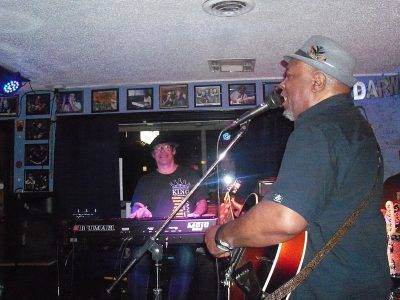 In the middle of "Ooh Baby, Baby" he asks, "You know that tune?" and we're all a part of the band. "Ooh -" and we reply "Baby, baby." Nothing gets a crowd going better than call and response, something cavemen musicians probably learned when they used to harmonize around the campfire not long after fire was discovered.
The Motown mood shouldn't have been that surprising. After all, Green may be the son of a famous jazz guitarist and composer, but as a teenager he lived on the same street in Detroit as Stevie Wonder's parents did, and Marvin Gaye and members of the Four Tops lived a few blocks over. Motown and Soul in general taps into the same emotional roots as the blues, and is equally satisfying. Motown especially, always takes the listener to a happy place. (For me ti's back to the South Carolina beaches where it was the sand and summer soundtrack.) And Green took us to a very happy place Saturday night.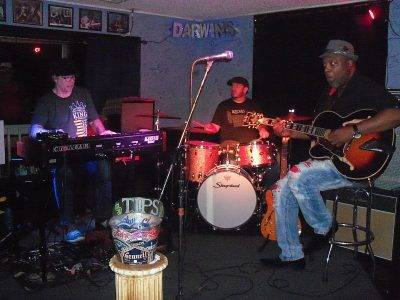 Being a soul-filled vocalist and a very impressive guitarist goes a long way, but an entertainer who can attract fellow players who complement and complete the sound is special, and Green did that with Dave Ellington and Adam Goodhue. When Ellington was pounding on the organ and Goodhue was providing both a solid background and spectacular fills, it all melded with Green's guitar and voice to create a series of perfect musical moments. Was it blues? sometimes, and sometimes not, but who cares? it was music, glorious music, and from what I felt and observed, it made us all glad to be in that place and at that time. That is a thing that Darwin's does well anyway, and that Grant Green and his cohorts did, too.
Based on Saturday night, i believe that whether Green is in a blues mood, a jazz mood, a Motown mood or some other mood entirely, as long as he is in the mood to make music, what you will probably feel is grateful to get to see him and listen. We are lucky to have him in Atlanta and playing around town. Check him out!