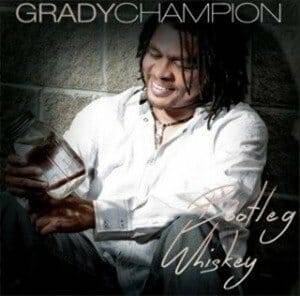 Grady Champion
Bootleg Whiskey
Malaco Records
This is Grady Champion's sixth studio recording and first for Malaco Records. Malaco is the southern soul blues label that brought us Bobby "Blue" Bland, Little Milton, Johnnie Taylor and others.
Producer Tommy Couch Jr. heads up the Jackson, Ms. Studio and has given Champion the full Malaco treatment. This is evident on the fabulous title track which to me is worth the price of the album. "Bootleg Whiskey" was written by the late George Jackson. The lyric "bootleg whiskey in a cheap hotel really rocked my world" will stick in your head. Champion's soulful voice, Barry Leach's rhythm guitar and the horn section arranged by Harrison Callaway are just perfect. Also in the band are David Hood, bass, who was part of the Muscle Shoals Sound Studio and keyboardist Clayton Ivey part of the Fame Studios also in Muscle Shoals. Ivey as a producer, pianist, composer and/or arranger has been involved in the production of over 550 albums ranging from Bobby "Blue" Bland to Randy Travis.
Champion has written five of the eleven songs included. "Home Alone" was co-written with Larry Grisham and on it and on the other originals Champions' harp is a bit further back in the mix than on some other productions. This allows for the horns and Ivey's organ to complete the Malaco sound. "Mr. Right" was co-written with Darrel Luster.
Darrel Luster's "South Side" was chosen to be released as a single and it is another highlight on this album. "Don't Waste My Time" written by Ernie Johnson again features the horn section of William Brown, trombone; Micah Brown, sax; and Kimble Funches, trumpet; along with Ivey on organ.
Ivey's church like organ opens "White Boy with The Blues" written by Jerry Strickland. It is a story song, spoken by Champion and set to the background of "Amazing Grace". The overall effect might be that of a black preacher eulogizing the loss of his white friend. Jimmy Johnson plays rhythm guitar while guitarist Mike Griffin is on lead. This is just wonderful.
If you like soul blues this album should satisfy your cravings. Grady Champion has never sounded better.
Richard Ludmerer