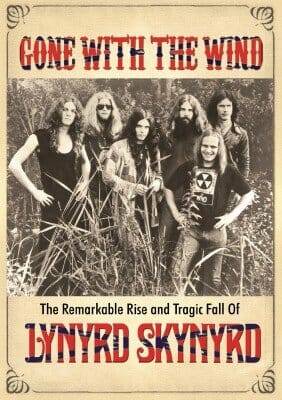 "Gone with the Wind: The Remarkable Rise and Tragic Fall of Lynyrd Skynyrd" – DVD www.ChromeDreams.co.uk – MVD Entertainment Group www.MusicVideoDistributors.com
This documentary "Gone with the Wind: The Remarkable Rise and Tragic Fall of Lynyrd Skynyrd" chronologically examines the bands eventual rise to fame, doesn't hold back about their severe bumps along the way. Needless to say: The main focus is Skynryd's leader Ronnie Van Zant who's rightfully portrayed as the impetus for their success, but he had help from the likes of The Allman Brothers Band, Al Kooper, bassists turned guitarist Ed King, Tom Dowd, with musical influences from The Rolling Stones and others.
To gain traction Van Zant ceaselessly rehearsed the band to find the sound he was looking for. But it wasn't until Al Kooper heard the group in a club Atlanta, Ga in '72 that Kooper was able to get them signed to the MCA recording label – albeit with an imperfect contract that stunk. Skynyrd was broke and needed to sign the deal; in the long-run proved to be a wise decision. That flawed deal got them to record at the legendary Muscle Shoals Studios in Alabama, (produced by Al Kooper) launched their recording career with 1973's "Pronounced "Leh-Nerd Skin-Nerd" an album that fashioned "Gimme Three Steps," "Simple Man," and their signature "Free Bird." Next came 1974's "Second Helping" also a success, didn't have the dreaded sophomore jinx. Kooper guided them to loftier heights with classics like "Sweet Home Alabama" where Van Zant answered Neil Young for his comments on "Southern Man." Plus "Workin' for MCA," the chilling and probable biographical "The Needle and the Spoon," and the take-no-prisoners cover of J.J. Cale's "Call Me the Breeze." It was at this time Kooper suggested his friend Pete Townsend that Skynyrd would be an excellent opening band for The Who, who on-tour were promoting "Quadrophenia." Kooper continues to opine that The Who were additionally famously generous with their drugs a scenario Skynryd did not need additional coaxing with.
As the alcohol and drugs took their toll and MCA's demand for constant touring and another new album they released their third recording in three years; 1975's "Nuthin' Fancy," also produced by Al Kooper that gave us "Saturday Night Special," and "Whiskey Rock-A-Roller" offering the band as a generic rocking band that sort of lost touch with their Southern roots and appeal. Unfortunately "Nuthin' Fancy" was not their best commercially selling album to date. 1976's "Gimme Back My Bullets" also showed signs of wear, Kooper was fired and even with the great Tom Dowd's production – it was initially obvious that Dowd wasn't a good fit for the band. It wasn't a bad album, but it was a disappointment that yielded few memorable tunes and an unusual co-authoring with Traffic's Jim Capaldi and Steve Winwood writing with Allen Collins and Van Zant on "Every Mother's Son," a song that could have been special, but is long forgotten. They also tried another J.J. Cale cover "I Got the Same Old Blues" that also failed to energize.
Double live albums were commonplace in the seventies, Skynyrd was known for its sharp live performances so after the disappointing studio releases it was a savvy move to issue "One More From the Road" landing in the stores just months after "Gimme Back My Bullets." The live album was enthusiastically embraced entering the Top Ten and would become their best-selling album – also produced by Tom Dowd, adding background vocalists Leslie Hawkins, Jo Jo Billingsley, and Cassie Gaines the sister of the recently added guitarist Steve Gaines. Also notable; are live covers by bluesmen Jimmie Rodgers' "T for Texas," and Robert Johnson's "Crossroads."
1977's "Street Survivors" (also produced by Tom Dowd) dropped just prior to the plane crash. It was a heck of an album that fashioned "That Smell" reeked of death, now categorized as eerie. Energized by the success of "One More From the Road" the band ascends with the gifted guitarist Steve Gaines (who like his sister Cassie, and Van Zant perished in the plane crash.) Note the two co-authored (Van Zant – Gaines) "You Got that Right," and "I Never Dreamed," plus singular Gaines tunes "I Know a Little," and "Ain't No Good Life." The album "Street Survivors" also included "What's Your Name," the album version of "That Smell," and a cover of Merl Haggard's "Honky Tonk Night Time Man."
I enjoyed this documentary, but need to inform that it's nearly three hours long… It's narrated by Thomas Arnold and was written and directed by Tom O'Dell. The interview segments are solid especially the recent comments by Ed King, and later day drummer Artimus Pyle. Alan Paul's observations are also very insightful and suggest mind provoking thoughts. Note Paul's work with The Allman Brothers Band and his excellent and recent book "One Way Out: The inside History of the Allman Brothers Band."
But: I need to call out the snobbish and boring Robert Christgau; the self-professed "Dean of Rock Critics" for his lame comments about The Allman Brothers writing skills. Christgau rightfully states that Duane Allman wasn't a good songwriter but omits the fact that Duane only wrote one (instrumental) song, had Duane been alive today I'm sure he would also tell us that songwriting wasn't his thing. Christgau also states that Dickey Betts wasn't that great of a songwriter –that's debatable. He then goes onto speak about the (rightful) writing talents of Ronnie Van Zant. But this pompous Christgau fool doesn't bother mentioning about Gregg Allman's songwriting skills? Give me a break.
Nonetheless and historically speaking this DVD documentary is a fitting (and long overdue) tribute to a great Southern Rock band. Whose tragic demise came too soon that ending abruptly. This is recommended viewing – enjoy.
For almost 17 years Bob Putignano has been pivotal at WFDU with his Sounds of Blue radio show (Wed. & Fri. 9am-1pm) www.SoundsofBlue.com – http://wfdu.fm Previously a contributing editor at Blues Revue, Blueswax, and Goldmine magazines, currently the Music Editor for the Yonkers Tribune www.YonkersTribune.com & www.MakingAScene.org Bob was also the 2003 recipient of the "Keeping the Blues Alive" award (given by the Blues Foundation in Memphis) for his achievements in radio broadcasting. Putignano can be contacted at: BobP@SoundsofBlue.com