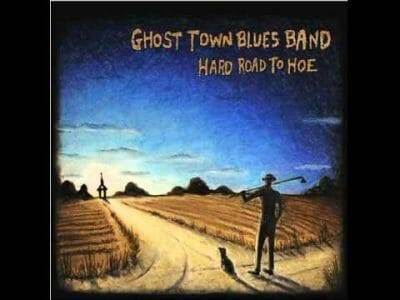 Ghost Town Blues Band
Hard Road to Hoe
Independent
The Ghost Town Blues Band represented the Memphis Blues Society in both 2013 and 2014 at The International Blues Challenge. A finalist in 2013 they took 2nd place in 2014. It seems that with time this band just gets better and better. This is the bands third recording.
The GTBB consists of Matt Isbell, guitars and vocals; Preston McEwen, drums and vocals; Jeremy Powell, keyboards; Alex Piazza, bass; Suavo Jones, trombone; and Richie Hale, tenor sax. Brandon Santini guests.
The bands influences on the first six songs include Memphis, Mississippi Hill Country and New Orleans funk. The title track "Hard Road to Hoe" features the sound of a shovel and broom as Matt Isbell plays slide guitar on a biographical song about humble beginnings while growing up. On "Big Shirley" Jeremy Powell lets loose on the piano like a crazed Jerry Lee.
Guest Brandon Santini plays harmonica and sings on "Tip Of My Hat" with it's infectious second line beat. Santini plays harp again on "My Doggy". The latter features a great horn arrangement.
"Mr. Handy Man" is a tribute to W.C. Handy as the band lays down their respective instruments and pick up their horns. This rousing number is a bit short but one can imagine how it might appear when performed live. It is followed by a rockin' tune "Hate to See Her Go" with the lyric "but I love to see her walk away". Jones' trombone solo is followed by Hale's sax solo.
The remainder of the album is solid blues-rock. "Tied My Worries to a Stone" features Isbell's fiery guitar. On "Dead Sea" the rhythm section lays down the strong foundation which again enables Isbell. "Nothing But Time" features Powell on keyboards.
"Seventeen" includes the poignant lyric "slow down you're too far in front of yourself". The album closes with "The Road Still Drives the Same", "without you".
The Ghost Town Blues Band just feels right. Better check them out.
Richard Ludmerer