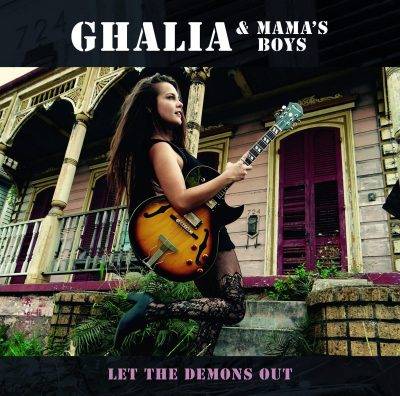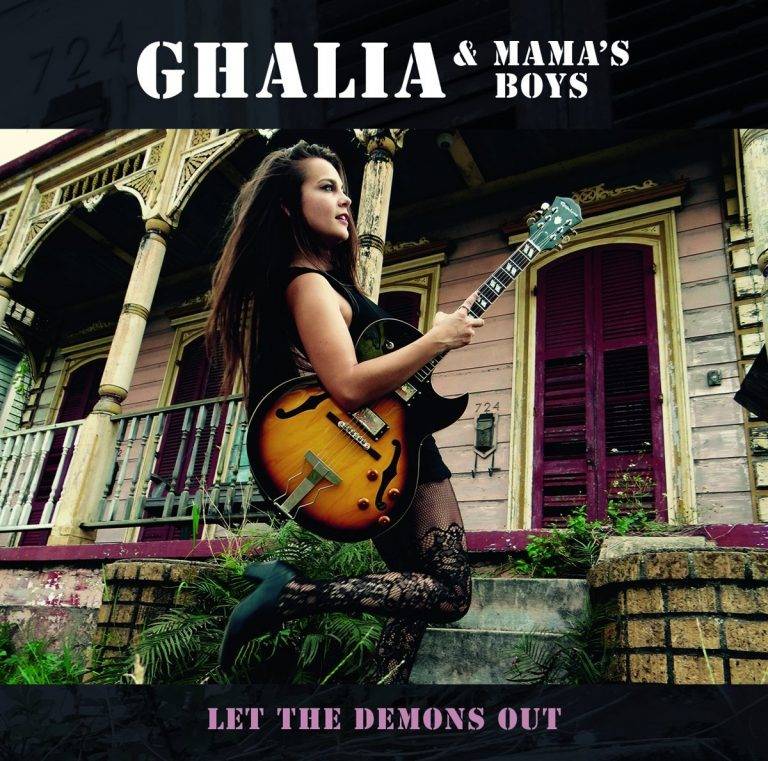 Ghalia & Mama's Boys
Let the Demons Out
Ruf
Ghalia Vauthier, the Belgian singer-songwriter/guitarist, is the newest signing for Ruf. This emerging artist from Brussels splits her time between her native country and New Orleans where she recorded this album with acclaimed harmonica band Johnny Mastro & Mama's Boys. Ghalia has steadily built a fan base as a solo artist and band leader of two native acts, "Ghalia & The Naphtalines", a high energy R&B band, and her (all-original) project "Voodoo Casino", with whom she recorded her first album in 2016. Yet, Ghalia began to really establish herself by busking in the streets of Europe and beginning in 2013, in the states.
She began with the familiar musical hot beds in Chicago, St Louis, Memphis, Nashville, and then in the deeper South – mostly Mississippi and New Orleans. In fact, she began both a musician and fan favorite n Clarksdale, MS, leading to a spot in the town's music festivals for the past three consecutive years. In the Spring of 2106 she fell in with New Orleans local legends, Johnny Mastro & Mama's Boys. When the gave her the opportunity to front the band, the chemistry was palpable, leading to these recording sessions.
There's an engaging pulse that lies somewhere between blues-rock, rockabilly, and straight-ahead rock n' roll to these dozen cuts, eight originals, two co-writes and two covers. She says, "We're not aiming to replicate traditional blues but to push the songwriting and playing to a point at which we discover something new, while still maintain a blues vibe. We hope to strike a balance between the traditional and progressive. That's what good art is about anyway."
While her vocals resonate with passion, it's not always easy to understand the lyrics. Maybe it's a diction thing but it probably has more to do with her voice which while usually hoarse and husky often ventures into a high-pitched squeal which ultimately detracts a bit from the overall delivery. Despite that the band is solid and spot on rhythmically. She and Johnny Mastro collaborate well together on those tunes that feature harp solos, especially the slow burner "Addiction." Smokehouse Brown's guitar and bassist Dean Zucchero and drummer Rob Lee are in the pocket throughout.
If you had to guess, you might think the band is from Chicago rather than the Crescent City as the sound owes itself much more to the former. The opener "4am Fried Chicken", was previously cut with her band Voodoo Casino. Then, as befitting the territory, we hear tracks like the title cut mentioning demons and the requisite "Hoodoo" in "Hoodoo Evil Man." "Press That Trigger" features Smokehouse Brown at his fuzzed out best while "Waiting" is a vocal duet between Ghalia and Johnny.
Ghalia bears watching. She's got a special spark and while this album is far from perfect or innovative, it creates a rather natural appeal due to the tightness of the band and her fired up delivery. Considering this is only her second album, she's clearly destined for even bigger stages. She's off to a good start with a major label behind her.
[amazon_link asins='B075K56S63′ template='ProductCarousel' store='maasc-20′ marketplace='US' link_id='322b94a7-f1b9-11e7-9aad-5bf119811902′]