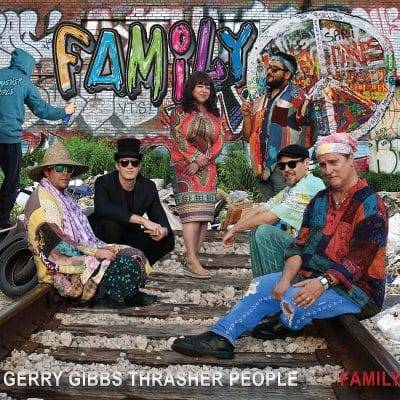 Gerry Gibbs Thrasher People
Family
Whaling City Sound
Just to set your expectations, drummer, keyboardist, and composer Gerry Gibbs is the son of the esteemed composer Terry Gibbs, who issued The Terry Gibbs Songbook at age 96, one that we covered here. In 2021 Gerry issued a trio recording, with his Thrasher Trio(s), the Grammy nominated Songs for My Father. That was a comprehensive, amazing project that employed four different trios with legends such as Chick Corea, Ron Carter, Kenny Barron, Buster Williams, Patrice Rushen, Larry Goldings, Geoff Keezer, and Christian McBride. How does one follow up an effort like that? Now, with his thirteenth album for Whaling City Sound, Gerry takes the only available viable course, presenting something completely different than either of those offerings with Family, a 2-CD set. Gibbs and his wife burned lots of miles to record the previous album but for this one, they encountered several health and family challenges (detailed in the liners) before finding sanctuary with a group of unknown but talented and compatible musicians in San Antonio. With a mix of seven originals and fourteen covers, some as surprising as Nirvana's "Smells Like Teen Spirit" and Stevie Wonder's "Living for the City/Overjoyed," and Earth, Wind, and Fire's "Fantasy," this is essentially a sextet recording including vocalist Michelle Garibay Carey, along with a few extra flourishes.
Gibbs plays drums, percussion, Hammond B-3, and acoustic piano. Joining him are Jerry Espinoza (multiple reeds, percussion, background organ), Eric Hargett (multiple reeds, percussion, background organ), Tommy Howard (various guitars, rapper, percussion), and James Suter (acoustic bass, percussion). His wife, Kyeshie Gibbs, sings background on two tracks and The Texas Low Budget Orchestra added strings and French horn parts.
We are introduced to Carey's soaring vocals right away on Horace Silver's "Song for My Father" while Hargett's baritone sax and Howard's guitar have a vibrant instrumental presence. The band then interprets the funky Eddie Harris classic "Cold Duck Time" from the Les McCann/Eddie Harris gem, Swiss Movement with Gibbs on piano and Howard filtering in some blues lines. Surely there's a tenor solo or two but the notes don't specify the soloists and both woodwind players handle numerous reeds. Staying with the familiar vocalist Carey returns for a playful take on "My Favorite Things" which includes a melodic, un-Coltrane-like soprano saxophone solo and impressive piano from Gibbs. Other highlights on Disc One include the frenetic vocalese imbued "Pick Up the Pieces," the funky feel-good medley of "We Live in Brooklyn Baby/Everybody Loves the Sunshine," a woodwind and percussion feature in their cover of Wayne Shorter's Weather Report medley "Sightseeing/Mr. Gone," Gibbs' infectious, danceable "The Caribbean Song," and another shining turn from Cary and impressive guitar from Howard on EWF's "Fantasy."
Disc Two begins with the rollicking Gibbs original, "Road Trip," a feature for his B3 playing and feisty low-end reeds from Hargett. Carey and Gibbs on piano make the Nirvana tune seem right at home in a jazz context while their spin on the Stevie Wonder medley is a disappointment for those expecting the gritty "Living for the City" portion. The band is exceptionally tight on Cedar Walton's "Firm Roots" and completes the project with Gibbs originals as the last four tracks. "Friends Forever," is an uplifting stomper, imbued with vocalese, powerful horns, shimmering piano, and forceful drumming. "Routines on the Road" boasts intricate rhythms for an intense blowing session from the two reedists while "The Final Message" plays to Latin rhythms and a celebratory vibe. Finally, "The Band of Losers" sends us off with a cool syncopated groove, triumphant style, belying the tongue-in-cheek title.
Immerse yourself for a full two hours in this music where countless bright moments abound.
Help Support Making a Scene
Your Support helps us pay for our server and allows us to continue to bring you the best coverage for the Indie Artists and the fans that Love them!
Make a one-time donation
Make a monthly donation
Make a yearly donation
Choose an amount
Or enter a custom amount
$
---
Your contribution is appreciated.
Your contribution is appreciated.
Your contribution is appreciated.
Donate
Donate monthly
Donate yearly
You can donate directly through Paypal!
Subscribe to Our Newsletter