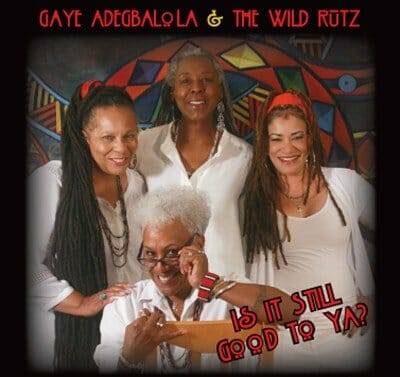 For all of the legions of fans who have missed Saffire-The Uppity Blues Women since they split in 209, you will be happy to know that former member Gaye Adegbalola is still making the same sort of smart, honest, usually sassy but sometimes profound music that she made with that group, only now with three other talented women collectively known as The Wild Rutz.
This is an extraordinary album in every way, but it is especially set apart immediately by its' a capella nature. It takes great skill to sing in harmony with little accompaniment, but these women do it, creating a tapesty with Adegbalola's voice in the center of it and with only various soft percussion instruments and minimal guitar to complement the voices. The groups' mission is, according to the liner notes, to "share their mojo," and they certainly do that.
The title track, 'is It Still Good to Ya?" plays to Adegbalola's strength as a songwriter. No one writes about getting older and still wanting to be desirable better than she does. This is such an honest song and one that many mature people will relate to. The other songs on the album are mostly blues, but there is one do-wop song (because "every a capella group needs a do-wop song"), "Boy in the Boat," a masterpiece of sly double entendre rendered with flawless harmony and tremendous charm. The note states, "If you don't know what the term means, ask an old black woman," but I think you can figure it out.
There is also one gospel song, the soul-stirring "Let Go and Let God," which is about being willing to release control and give in to a Higher Power, whatever you may call that power.
As for the other songs, they celebrate love from the frivolous "Eye Candy" to the simple joy of "Coffee-Flavored Kisses" to the simple but powerful message of "One True Thing" (which is love.) They celebrate the ability to enjoy a good drink with "Fireballin'" and recount a hilarious competition which Adegbalola says is based on a true story, "The Dog Was Here First." Then they turn serious with the social commentary of "The Skittles Blues" and the anti-domestic violence song "You Don't Have to Take It." They take on a serious subject, heartbreak and mental health, in "Sick Leave Blues," They discuss the need to control your own life in a bouncy blues called "I Know You Want to Change (But Yo' Mama Won't Let You) and then end with the autobiographical "These Blues Are Mine."
These are wise, funny, strong, beautiful women creating gorgeous music together and, as they sing in "Giving You My Mojo," sharing their magic with us, if we are open to receive it. I encourage you to be open. You will laugh, you will be touched and you will be stronger for sharing their mojo.