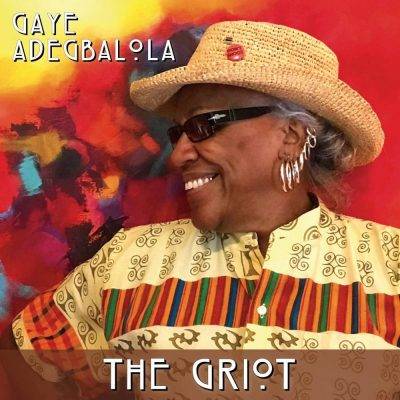 Gaye Adegbalola
The Griot
Vizztone Label Group
Gaye Adegbalola, born Gaye Todd, was given the name Adegbalola by a Yoruba (African) priest. She was a founding member of the group Saffire-The Uppity Blues Women and was with them for twenty-five years; they recorded nine albums before they ended their run in 2009. In 1990 Gaye won a Blues Music Award for Song of The Year for "The Middle-Aged Blues Boogie" the lead track off their Alligator Records debut.
Gaye released her debut solo recording "Bitter Sweet Blues" in 1999, also on Alligator. In 2008 she released "Gaye Without Shame" and it resulted in a 2009 BMA nomination as "Contemporary Blues Female Artist" of The Year. Recent albums include 2012's "Blues in All Flavors"; and 2014's "Is It Still Good to Ya?" recorded with her group The Wild Rutz. Gaye received another BMA nomination in 2016 for Acoustic Artist of The Year.
"The Griot" is a West African word describing the class responsible for maintaining an oral history in the form of music, poetry and storytelling. The album highlights Gaye's songwriting abilities and she refers to this collection as "Topical Blues For Topical Times". Vocalist Gaye plays guitar and harmonica while her co-producer Jeff Covert plays guitar, bass, drums and anything else he can find. Several other musicians guest throughout the recording.
Opening with a beat that will remind you of Buddy Holly's "Not Fade Away" covered by the Rolling Stones, "Nothing's Changed" is a protest tune for our times. Gaye references the recent Charlottesville incident, Nazi's, The Ku Klux Klan and Trayvon Martin. She tells it straight "There's been some change it's true, Too slowly in my lifetime, there's much more we can do".
"Liearrhea" is a sarcastic tune about the hypocrisy that comes out of the president's mouth. Another rocker "Dirty Sheets" is about poverty and now even more appropriate as we are in the middle of a government shutdown with people working without being paid. A great horn section is featured on "(You're) Flint Water" about the city with a polluted water system as Gaye sings "I can't even flush you away". On "Kaepernicked" she thanks the football player "for taking a knee for me". Gaye plays harmonica on "Ain't Technology Grand" sporting the lyric "all of God's children got a phone". "Don't Criticize Me" is a fun tune "if you can't clap on the 2 and the 4 don't you criticize me…if you can't boogie and shake yo' ass don't you criticize me".
Selected covers include Doc Pomus' "(There is Always) One More Time" recorded by both B.B. King and Johnny Adams; Ma Rainey's "Jelly Bean Blues" recorded with Louis Armstrong in 1924; and Bessie Smith's "Need A Little Sugar in My Bowl" first recorded in 1931 and previously covered by Gaye on her 1999 debut.
Other subjects include sexism, mental illness, vanity and old age. Song lyrics are provided in a booklet that accompanies the recording. Gaye is reverent as she is a wordsmith who delights in the art of songwriting. As a protest songwriter and Griot she is one of a kind.
Richard Ludmerer
[amazon_link asins='B07KBHJ1Y6,B001AZFZLS,B00UWBHC4E,B000042O77,B007ZTR3FO,B0002KQOVM,B07KBG53QY,B00DUNQ7BK,B000QVTSOW' template='ProductCarousel' store='maasc-20′ marketplace='US' link_id='eb59d4a7-3bc3-4248-8f96-0da2319eda46′]