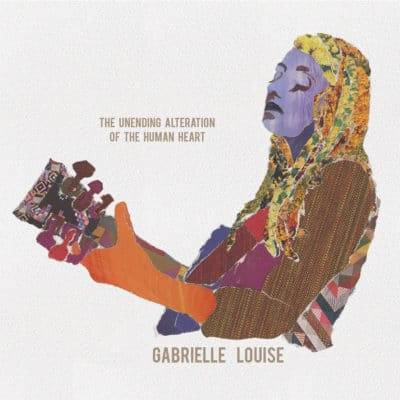 Gabrielle Louise
The Unending Alteration of the Human Heart
Self-released
The Unending Alteration of the Human Heart is the studio follow-up to singer-songwriter Gabrielle Louise's 2016 When the Static Clears, my introduction to the Colorado-based artist. She did also release Live at ETown Hall in 2017. This is her ninth album overall. Gabrielle is a thoughtful, talented, gentle soul with a gift for words and an immensely soothing musical effect, even when singing about dark and depressing subjects as she does often on this effort. She has enough warmth in her voice to heat a cold room for hours, a voice with perfect pitch and clarity that one could listen to tirelessly. She has an elegant quality that befits the term enchantress – both classy and seductive. Perhaps this description from writer David McGee paints an even clearer picture – "Gabrielle Louise is a songwriter and storyteller living in the mountains on the western slope of Colorado. Half her time she's touring (well, used to) and making records and the other half she's gardening, painting, and writing songs on her porch. Her live show is honest, introspective and engaging."
Some have likened her to Joni Mitchell for her literate lyrics or Eva Cassidy for her genre hopping, and on the previous album my description of her voice as akin to the ethereal, early Nanci Griffith. Maybe it's her Colorado home but early Emmylou comes to mind as well listening to this one. Musically, this is a quiet folk album, full of more than one dirge. She has support to frame her beautiful words and voice from co-producer Tim Mitchell, versatile string men David Kaye and Greg Schochet, bassist Jon McMillan and drummer/harmony vocalist Damon Smith. Gabrielle plays acoustic guitar, piano, and Rhodes.
The album started as a breakup album but morphed into surprising pride in self-discovery, an extended care for others, and a renewed outlook. She spent a great amount of time alone the last couple of years, keeping only her creativity as company in a rural location where she was chopping wood, hauling water, and communing just with nature. She says, "I wrote my way through fear and disenchantment and it was this music that kept conversation with my soul when I felt nobody bearing witness to my existence but the unending and silent snow covered fields. Soon enough, though, an inner flame appeared, and these songs sun me through my process into Spring."
In these ten originals and a uniquely dirge-like cover of Woody Guthrie's "Deportee," the process of healing unfolds, almost as represented by titles such as "Words," "Stillness Speaks," "See in the Dark," "Anxious" and "Sun Up in Somerset." Here is a lyric passage from "Stillness Speaks," a standout track – "So be still, stillness speaks. I'm not waiting on anyone there. I'm not sending up any prayer. I am still because stillness speaks." Toward the end of the album, playing piano on "House of Cards" she sings – "I'm not feeling tired. I'm not feeling worn. I'm feeling like the riverbed after the storm. Now I know why the rose bush needed the thorn." The album's most intimate track "Time" speaks to how she dealt with grief, basically digesting it whole. "Lay here in a bed til ten just staring at the ceiling, like alone is easy, but it ain't got no feeling. It's just time, time, time, all it is is time."
Yet, not every song is autobiographical or personal. "Sun Up in Somerset" is about a young coal miner who has dreams bigger than his heritage and geographical limitations. "First Train West" is about a man working in the east when he hears his home is ablaze in a devastating wildfire. "Big Unbreakable Heart," another piano-based tune is an homage to her mother who became a single mother of four – "a blueprint of how to keep a great attitude when times are challenging." That one brings in some jazzy touches as does the following syncopated Rhodes-driven "Don' Touch Me," which on the surface comes off as cute song but the lyrics reveal some deep bitterness.
Artists that are this talented often have interesting life stories, and she is no exception. Louise originally hails from Maine as the daughter of two traveling musicians. She attended 12 different schools before graduating high school. "They carted us around in an Airstream with wonderful rainbow curtains and all kinds of 1970s "Save the Bears" and "Save the Forests" pins all over the place," she recalls. When she was 12, her father was playing guitar for Michael Martin Murphey, but her mom and dad also performed as a duos named Los Dos and Mother Gabrielle. "My parents had hopes that I would become a performer – they chose my name as a stage name. So, I didn't have much choice."
Louise studied at Michigan's acclaimed Interlochen Center for the Arts and then studied songwriting at the Berklee School of Music in Boston. It was there that she began touring as a solo artist. She's been making albums since 2006 and is a confident, refined, songstress. Even though we've been using her first name in reference to her, she's not on that first name only level yet of a Lucinda, Emmylou, or Joni. Yet, she sings as well as any of them and her writing gets better each time out.