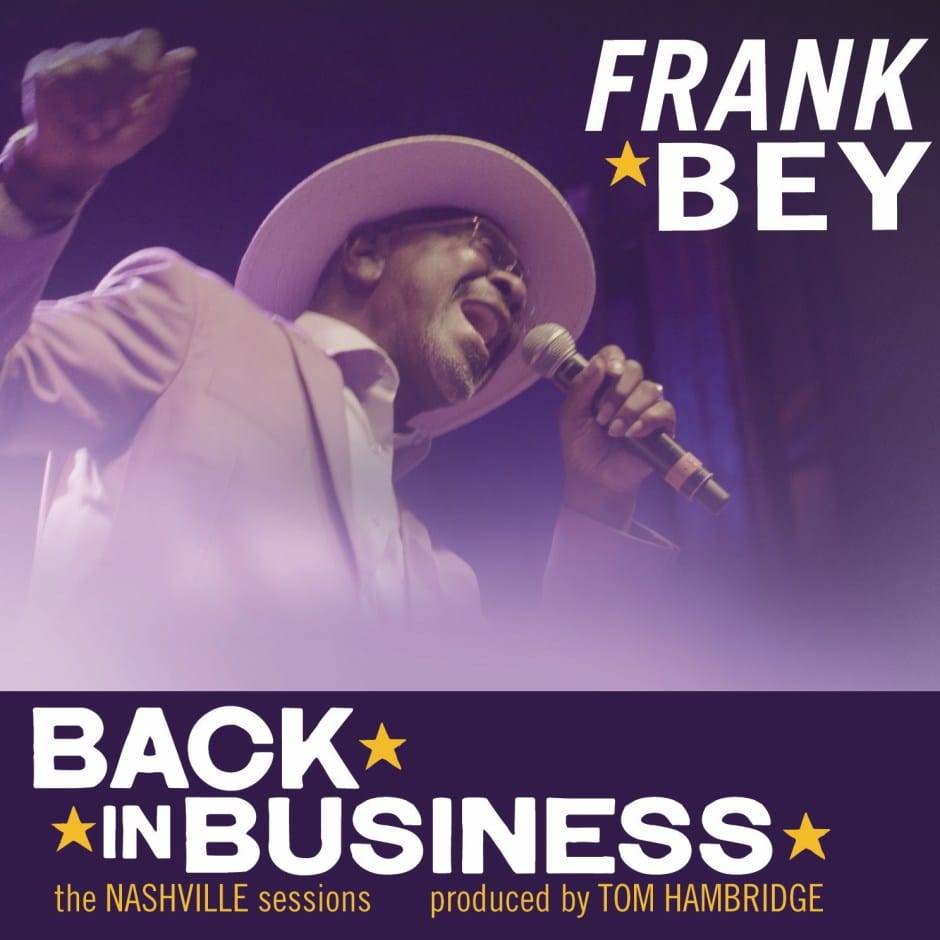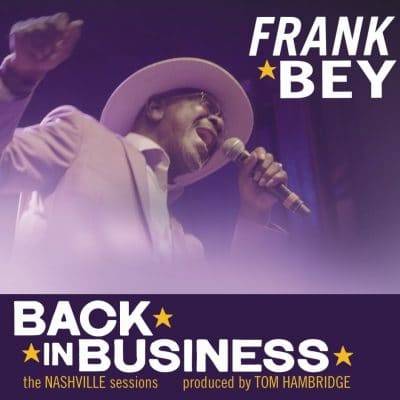 Frank Bey
Back in Business
Nola Blue Records
Frank Bey was born in Millen, Georgia in 1946. His mother, gospel singer Maggie Jordan, had him singing with The Rising Son Gospel Singers when he was four years old. Bey was brought up in a strict household, and at the age of fourteen he had to sneak out of the house to sing secular music. When he was 17 Bey took a job driving for Gene Lawson, Otis Redding's advance man. When Redding's opening act didn't show Bey was asked to open for him. Bey became the featured vocalist in a soul band but when they broke up, he was left stranded. He gave up music and opened a seafood restaurant in Philadelphia. Bey resumed his singing career when he was fifty years old but was slowed down by kidney failure. He resumed his music career eleven years later. In 2008 Bey moved to San Francisco to work with Anthony Paule and they recorded three albums together including 2014's "Soul For Your Blues" and 2016's "Not Goin' Away". As a result Bey received four Blues Music Award nominations; two for "Soul Blues Artist of The Year" and two for "Soul Blues Album of The Year".
This new album is Bey's sixth overall and the first produced by the two-time Grammy winning Tom Hambridge. It is also Bey's first album on Nola Blue Records the same label that records Benny Turner. The band includes Hambridge, drums and background vocals; Rob McNelly, guitars; Marty Sammon, keyboards; and Tommy MacDonald or Adam Nitti, bass. The horn section of Max Abrams, saxophone; and Julio, trumpet, are featured on four tracks. Background vocalist Wendy Moten is added on three more.
Six of the songs were written by Hambridge, five of them with his writing partner Richard Fleming. Bey opens with the title track and the listener is immediately reminded of the rich vocal timbre he possesses. "I've been gone for awhile but I'm back in business now".
Bassist Nitti has got that funky beat, and it's combined with a great horn arrangement and background vocal to complete the fabulous production on "Gun Toting Preacher". This exciting vocal is further enhanced by McNelly's stellar guitar.
Keyboardist Sammon opens the soulful "Take It Back To Georgia", first on piano before switching to organ. "The Half Of It" is just a fabulous tune, well written, and beautifully sung by Bey. "Better Look Out" once again features McNelly on guitar; while the horns decorate "Blame Mother Nature".
"Where You Been So Long" written by Kevin Barry and Mighty Sam McClain first appeared on McClain's 1999 album "Soul Survivor". Bey is at the top of his game as Sammon solos.
"Cookie Jar" is another funky tune featuring bassist Nitti. The song was written by Bey's former bandmates Jeff Monjack and Kevin Freison. Also from that songwriting team is "Ain't No Reason". Both of these songs first appeared on Bey's 1998 debut recording "Steppin' Out". Monjack who has had songs recorded by The Mannish Boys also co-authored "Give It To Get It". The closer is "Yesterday's Dream" also written by Freison.
Over the last four years the emotive Bey has become one of our favorite soul blues vocalists. This is another great album from Bey.
Richard Ludmerer
[amazon_link asins='B07FZDLVVX,B00F6N3CQU,B00104K0QY,B000F5DSLS,B00BDRF7UC,B01AXLW97C,B014I6K6Z0,B01MQ5RZ3M' template='ProductCarousel' store='maasc-20′ marketplace='US' link_id='c25e5491-b42d-11e8-a994-a50612d348e6′]