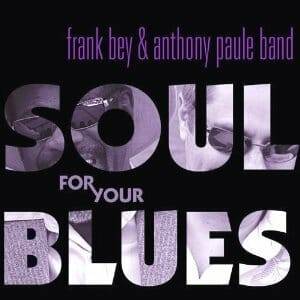 Frank Bey & Anthony Paule Band
Soul For Your Blues
Blue Dot Records
Frank Bey was born in 1946. His mother was a gospel singer. He began singing at the age of 4 with the Rising Son Gospel Singers. At the age of 14 Bey had to sneak out of the house to sing secular music. When he was 17 he took a job as a driver for Gene Lawson, Otis Redding's advance man. When Redding's opening act didn't show, Bey was asked to open for him. From 1973 to 1977 Bey was a featured vocalist with a soul band; but when they broke up he was left stranded. He wound up opening a seafood restaurant and bar in Philadelphia. In 1996 Bey resumed his career and began performing at Warmdaddy's the famous Philadelphia blues club. He released his first album "Steppin' Out" in 1996. A kidney disease slowed him down but in 2007 Bey recorded the follow up album, "Blues in the Pocket". In 2008 he moved to San Francisco to work with Anthony Paule.
For twelve years Anthony Paule was the lead guitarist in the Johnny Nocturne Band led by saxophonist John Firmin. Their featured vocalists included Brenda Boykin and Kim Nalley. Paule knows how to work with a great singer as he also got to work with Tommy Ridgley, Johnny Adams, Boz Scaggs and others. Paule released two albums of his own, 1997's "Big Guitar" and 2001's "Hiding in Plain Sight".
The band lineup and their credits include: Paul Revelli, who worked with Joe Louis Walker and The Boss Talkers, on drums; Paul Olguin, who worked with Elvin Bishop, on bass; Tony "Macaroni" Lufrano, keyboards, whose credits include Boz Scaggs, Huey Lewis, and Steve Miller; Nancy Wright, who played with Katie Webster, B.B. King, and Johnny Adams, on sax; Mike Rinta, trombone and horn arrangements, played with Buddy Guy, Jimmy Vaughan, and Irma Thomas; and Steffen Kuehn, trumpet.
In 2012, the band released "You Don't Love Nothing" a live album recorded at the Biscuits and Blues Night Club in San Francisco. It received a Blues Blast Award nomination for Best New Artist Debut in 2013. That album was mostly covers. This is the bands first studio recording.
"Soul For Your Blues" opens with "I Don't Know Why" written by the great Willie Mitchell, of Stax and Hi Records. The first instrument we hear is the fiery organ of Lufrano. Kid Anderson guests on guitar. Percy Mayfield's "Nothing Stays The Same Forever" features Revelli's snare drum and Rinta's trombone. On Wynonie Harris's "Buzzard Luck" I begin to realize that Bey is, without a doubt, the most expressive vocalist I've heard since Johnny Adams.
"I Just Can't Go On" was written by Christine Vitale and it is just fabulous. "Don't Mess With The Monkey" was co-written by Vitale, with her husband Paule, and it features Rick Estrin on harp. Vitale and her regular co-writer Karen Falkner authored both "I Want to Change Your Mind" and "It's Good to Have Your Company". These feature background singers Lisa Andersen, Larry Batiste and Ron Beck. Vitale, Falkner, and Paule share the credit for "You're Somebody Else's Baby Too".
Paule contributes "I'm Leaving You"; the instrumental "Smokehouse" featuring a spirited horn section; and an instrumental arrangement of "I Left My Heart in San Francisco" featuring his interesting guitar lines.
In April 2014 the Frank Bey and Anthony Paule Band received Blues Award nominations for both "Best Soul Blues Album" and "Best Soul Blues Male Artist". This is highly recommended listening.
Richard Ludmerer