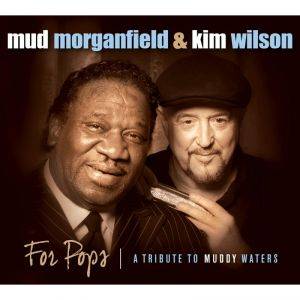 Mud Morganfield and Kim Wilson
For Pops: A Tribute to Muddy Waters
Severn Records
The most important figure in modern Blues is Muddy Waters. Waters took the music from rural Mississippi to the northern city of Chicago.
As a bandleader his band included Little Walter, the most influential harp player of our time. Waters' electrified Chicago Blues has been heard all over the world. Chicago styled bands exist worldwide and many perform each year in the International Band Challenge held in Memphis. Bands like The Fabulous Thunderbirds, Rick Estrin and The Nightcats and The Mannish Boys began as Muddy Waters tribute bands.
Mud Morganfield is the son of Muddy Waters. His discography includes "Mud Morganfield: Son of The Seventh Son" also on Severn Records. Mud Morganfield sounds just like his dad McKinley Morganfield aka Muddy Waters.
Kim Wilson a BMA award winner as "Best Instrumentalist- Harp" and also as "Entertainer of The Year" started as a member of the house band at Antone's Austin's blues club. While in that band Wilson backed up Muddy Waters whenever he was in town. Wilson went on to form the Fabulous Thunderbirds with Jimmie Vaughan. Recently The Fabulous Thunderbirds released "On the Verge" also on The Severn Records label.
The requests came pouring in to David Earl, President of Severn Records. Can you record Mud Morganfield and Kim Wilson together? Here it is. The band for this project includes Morganfield, vocals; Wilson, harmonica; Billy Flynn and Rusty Zinn, guitars; Barrelhouse Chuck, piano; and the rhythm section of Steve Gomes, bass, and Robb Stupka, drums.
All of the songs were written and/or recorded by Waters. On "Nineteen Years Old" the guitar solo is played just like Waters would have sounded if he had played it himself. Morganfield's voice sounds just like his dad in both his phrasing and vocal timbre.
Listening to this album is like going back in time. Thank you Severn Records.
Richard Ludmerer