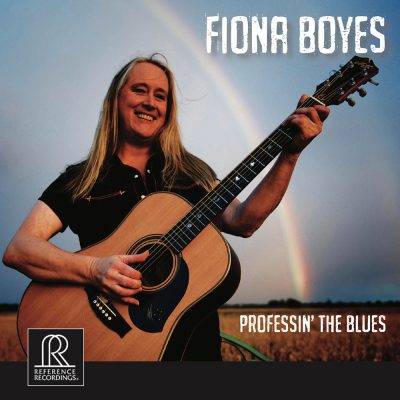 Fiona Boyes
Professin' The Blues
Reference Recordings
Fiona Boyes is an Australian who has completely absorbed the genre we call acoustic blues. She has been nominated for a Blues Music Award every year between 2007 and 2010; and she was nominated again in 2016 as Traditional Blues Female Artist of The Year. She has been playing the blues for the last twenty-five years. On her last album "Box and Dice", also on the Reference Records imprint, Boyes recorded in Melbourne Australia with her Aussie band playing various acoustic guitars.
Boyes newest recording, "Professin' The Blues was recorded at Skywalker Ranch home of Skywalker Studios, a Lucasfilm Ltd. Company in Marin County California. For this session her band included Denny Croy whose credits include being the bass coach for the 2003 movie "Swing"; being the bass department instructor and head educator at McCabe's Guitar Shop School of Music; and recording with Darlene Love, Keb' Mo, Doug MacLeod and many others. Rounding out her trio is Jimi Bott, a seventeen times Blues Music Award nominee, who won the 2015 BMA for Best Intrumentalist – drums and has recorded with Rod Piazza, The Fabulous Thunderbirds and The Mannish Boys. The album is produced by Boyes and Janice Mancuso; and recorded and mastered by Keith O Johnson, a founding partner of Reference Recordings, with over 140 albums to his credit and winner of the 2011 Grammy for Best Surround Album. Just being in the same recording studio with these guys is in itself an honor.
Boyes possesses an expressive voice filled with rasps and coos. She is also a wonderful songwriter having written fourteen of the sixteen tracks included. She has the ability to write songs that sound older or even traditional. Boyes utilizies a Maton acoustic guitar on three of my favorites; "Lay Down With Dogs" a humorous tune about coming home with fleas but really about infidelity; "Angels and Boats" about the flood prone area on the mighty Clarence River in Australia; and "Stubborn Old Mule" inspired by the town bully.
A National Reso-Phonic guitar is used on three more favorites; "One Rule For You" is about a person with a highly developed sense of entitlement which often leads them to behave badly; "Old and Stiff" a classic tongue-in-cheek song about a partner who wakes in the morning complaining of aches and pains; and "Kiss Me Darling" about relationships. Boyes also uses the National on "Catfish Fiesta" a tune she co-wrote with Australian guitarist Nick Charles.
Boyes chooses a 4 string Cigar Box guitar for "Card Shop" about a cheatin' man; for "If I Should Die" about one's mortality; and for a cover of Big Joe Williams' classic "Baby Please Don't Go"; a song that has been inducted into the Blues Hall of Fame.
"Face in The Mirror" closes out this fine album It's a song Boyes learned from her friend Chris Wilson. The session had ended and Boyes started playing, the band joined in…and Johnson got it all on tape.
Boyes is a blues phenom. Check out what she's professin'.
Richard Ludmerer