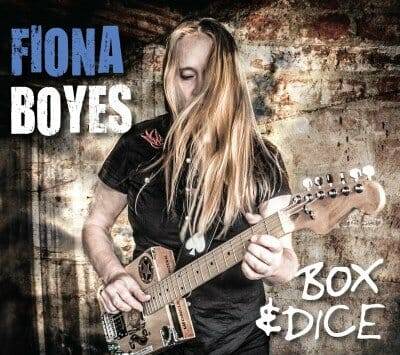 Fiona Boyes
Box & Dice
Reference Recordings/Blue Empress Records
Coming from Australia didn't hold Fiona Boyes back. Perhaps the distance served to filter out the mediocre; so that she only listened to and learned from the very best. Between 1990 and 1999 her band The Mojos released five albums. Boyes' first album under her own name was "Blues in My Heart" released in 2001 and later reissued in 2008. Her follow up recording 2003's "Gimme Some Sweet Jelly Roll" was the first on her own Blue Empress label.
In 2004 Fiona Boyes and The Fortune Tellers performed in Atlanta, Ga. and the concert was subsequently released as a double album. Boyes signed with Yellow Dog Records in 2006 and released "Lucky 13". Boyes collaborated with Rich Del Grosso and Mookie Brill to release "Live from Bluesville" in 2008. Her second Yellow Dog recording "Blues Woman" was released in 2009. Boyes was nominated for a Blues Music Award every year between 2007 and 2010. Boyes last recording was 2011's "Blues For Hard Times" produced by Kaz Kazanoff of The Texas Horns.
Boyes utilizes her Australian rhythm section on this new self produced album "Box and Dice". The band is therefore Boyes, guitars and vocal; Dean Addison, standup bass; and Mark Grunden, drums and percussion.
Boyes includes nine originals and three fabulous covers. The album opens with Boyes' "Juke Joint on Moses Lane" reprised from her 2009 "Blues Woman" recording. On this stripped down version Boyes' plays both the 6 string "Box and Dice" cigar box guitar pictured in the cover photo and a National Reso-lectric baritone guitar. A distinctive finger style guitarist Boyes uses the 6 string cigar box guitar again on "I'm a Stranger Here"; on "Mama's Sanctified Amp" and on "I Done Quit". Boyes switches to a 4 string cigar box guitar on both "Louisiana" and "Tiny Pinch of Sin".
Boyes plays the National Reso-lectric again on "Walking Round Money"; on "Walk With Me" and on a cover of "Black Mountain Blues" from J.C. Johnson who wrote songs for Bessie Smith.
Boyes picks up her regular axe, a Maton Mastersound custom electric, when covering Howlin Wolf's "Smokestack Lightning" and again on Magic Sam's "Easy Baby" with its extended guitar solo.
Boyes raspy voice is highly expressive. If you haven't heard her lately, you must seek out this import.
Richard Ludmerer