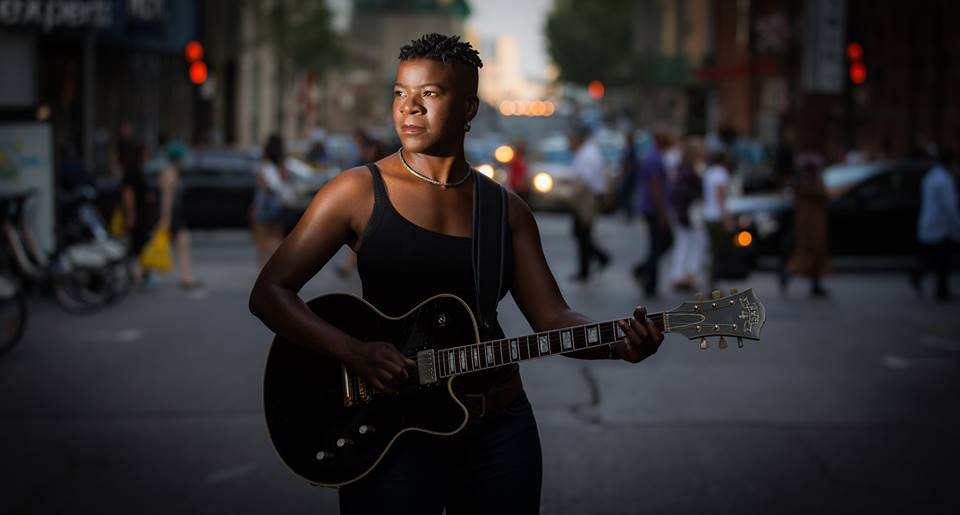 ---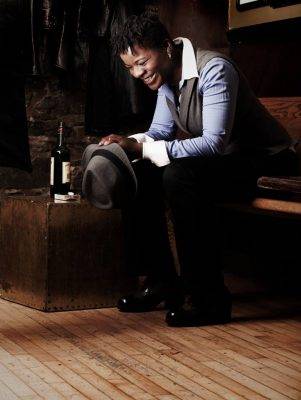 An exceptional stage presence, guitarist / singer-songwriter Cécile Doo-Kingué blends blues, afro-roots and soul to create a unique sound. Born and raised in New York City, first generation from Cameroon, she has lived in the USA, France, and is now an adopted Montrealer.
Considered one of Canada's most electrifying and versatile guitarists, she has shared a stage and/or recorded with Montreal Jubilation Choir, Blind Boys of Alabama, Bernard Purdie, Michael Jerome Brown, Tricia Foster, Scarlett Jane, United Steel Workers of Montreal, amongst many, and has opened for many icons including Canned Heat, Eric Andersen, Angélique Kidjo, Youssou N'Dour and Manu Dibango. In 2008, Cecile and Gern f. of USWM started Chick Pickin' Mondays, a night promoting women singer-songwriters.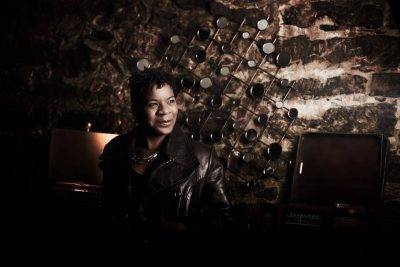 June 2010, Cecile released her debut solo album Freedom Calling to critical acclaim. In 2011, CBC commissions Doo-Kingué to write Home, a song on immigration. Gris, released in 2012, also praised by press and music lovers alike, earned Cécile the 2013 Fondation SPACQ Edith Butler Award for Excellence in Franocphone Songwriting. Doo-Kingué has toured both albums extensively across Canada and Europe, firing up clubs, listening rooms and festivals alike with her face-melting playing, rich vocals, and sharp and genuine banter with her audience. February 2015, Doo-Kingué releases her third solo album Anybody Listening Pt. 1: Monologues, the first chapter of a trilogy exploring blues, roots and life in their myriad of aspects (Monologues solo acoustic, Dialogues full band, Communion live), showcasing Doo-Kingué's songwriting in its rawest form. The album earned her accolades and multiple Maple Blues Award nominations for her exceptional guitar playing, soulful vocals, and powerful songwriting.
.
January 2016, Doo-Kingué releases the second chapter of her trilogy exploring blues, roots, and life in their myriad of aspects. Anybody Listening Part 2: Dialogues features her strength and versatility as an all-around guitarist and musician, from blues to jazz to folk to soul to rock n' roll. Fiery licks and seamless melody compliment her deep, laid-back voice throughout the album, leaving no doubt as to the guitarist's oneness with the instrument, nor the unity of her sound. Surrounded by a stellar cast of Montreal's finest musicians, Doo-Kingué presents an eclectic collection of contemporary blues adding to the social commentary of Anybody Listening Part 1:Monologues, and celebrating life and music with fellow artists she is a fan of, in spaces that exude positive energy.
Cécile Doo-Kingué is quickly earning a stellar reputation and a place alongside Canada's current roster of great guitarists. Powerful and raw, Cécile Doo-Kingué's guitar prowess, lyrics, and sound make for enthralling and intimate communion.