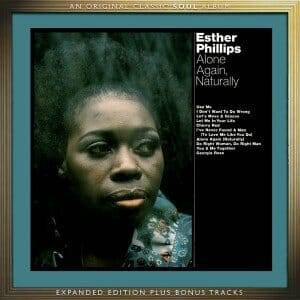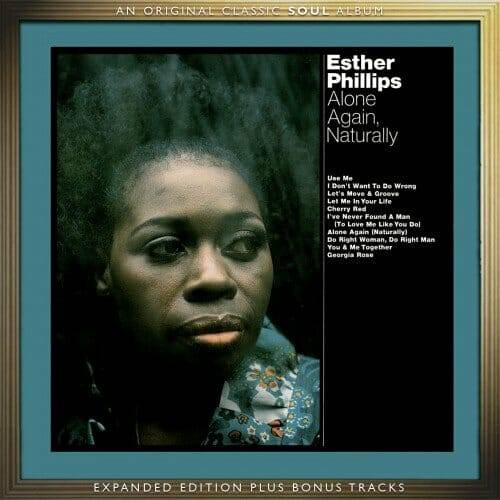 Esther Phillips "Alone Again, Naturally" Expanded Edition www.RealGoneMusic.com
Released on the Kudo Record label imprint (a subsidiary of Creed Taylor's legendary CTI record label) in 1972, "Alone Again, Naturally" by soul-blues-jazz singer Esther Phillips, produced by Creed Taylor, recorded with all-star session players and solo artists like George Benson, Maceo Parker, Ron Carter, and Billy Cobham. Creed Taylor melded pop, jazz and soul spotlighting Phillips' vocals around a jazzy improvisational groove. Parallel to Phillips' debut CTI album "From a Whisper to a Scream" Phillips' sophomore outing also garnered a second Grammy nomination. With the all-star lineup of A-team session musicians, plus James Brown music director "Pee Wee" Ellis horn charts with string arrangements from CTI's in-house coordinator Don Sebesky; this was/is a highly polished production. Yet there's no taking away from Esther's emotive and potent vocals exhibited here. Additionally: the sound quality is spectacular, mainly because of the always outstanding engineering skills of Rudy Van Gelder from his studio in Englewood Cliffs, NJ, and Wally Heider's lifelike capture of the two live bonus tracks.
Highlights (from the original studio recording) starts with a heady rearrangement of Bill Withers' (often covered) "Use Me" but this version is unique with the superb horn charts by Pee Wee Ellis, and Esther's soulful and casual vocal treatments. Margaret Nash's "Let's Move & Groove" is exactly what you would expect as it cooks in a soul-blues vein where every musician hit all the right notes and accented nuances to perfection. Joe Turner's and Pete Johnson's well-known blues "Cherry Red" is nailed by Phillips, checkout Cornel Dupree's guitar intro and especially his midway solo and Richard Tee's always solid keyboard comps. Booker T's and Eddie Floyd's "I've Never Found a Man (To Love Me Like You Do)" is a sumptuous uptown stroll, but songs like the title track by Gilbert O'Sullivan, Dan Penn's and Chips Moman's "Do Right Woman, Do Right Man," and Jimmy Roach's "You & Me Together" are hindered by sappy and lame string arrangements that makes them sound generational and dated. The studio segment concludes with "Georgia Rose" featuring opening lyrics authored by the late poet and vocalist Gil Scott-Heron, but it's otherwise ordinary.
The two bonus tracks are a thoughtful and classy inclusion by Real Gone Music as they are both taken from a very hard to find (in digital formats) "CTI All Stars – CTI Summer Jazz at the Hollywood Bowl" featuring a stellar band of (mostly) all CTI solo album artists: Ron Carter, Hubert Laws, George Benson, Bob James, Deodato, Johnny Hamond, Grover Washington Jr., Hank Crawford, Joe Farrell, Stanley Turrentine, Freddie Hubbard, Milt Jackson, Airto and Jack DeJohnette who is the only player who did not have a CTI album credited to his name though he appeared as a sideman on numerous CTI albums. The live version of "Cherry Red" is nasty and naturally bluesy, and the closing "God Bless the Child" (by Billie Holiday) is warm and tender except when the band adds an upbeat (but brief) instrumental passage that is hair-raising!
Forty-two years from its original release, 'Alone Again, Naturally' mostly holds up well, you'll also enjoy the liners by A. Scott Galloway that should enrich your appreciation of Esther Phillips. Note(s): *In the early fifties Phillips was discovered by the great Johnny Otis who scored a number one R&B hit "Double Crossing Blues," Phillips was just thirteen years old, and used her then stage name (Little Esther.) **Unfortunately Esther Phillips was addicted to drugs and alcohol; those demons accelerated her demise at the young age of just forty-eight in 1984. But on a softer note, let's hope Real Gone Music gets to releasing more Esther Phillips recordings in the not too distant future, as there are several more good ones from the CTI vaults and elsewhere to pull from.
For fifteen years Bob Putignano has been pivotal at WFDU with his Sounds of Blue radio show: www.SoundsofBlue.com – Previously a senior contributing editor at Blues Revue, Blueswax, and Goldmine magazines, currently the Music Editor for the Westchester Guardian Newspaper www.WestchesterGuardian.com and now at: www.MakingAScene.org Bob was the 2003 recipient of the "Keeping the Blues Alive" award (given by the Blues Foundation in Memphis) for his achievements in radio broadcasting. Putignano can be directly contacted at: bob8003@yahoo.com
Bob Putignano: www.SoundsofBlue.com
Weekly Music Editor at: http://www.WestchesterGuardian.com – NYC area Newspaper Now celebrating 15 + years on the air at WFDU http://wfdu.fm