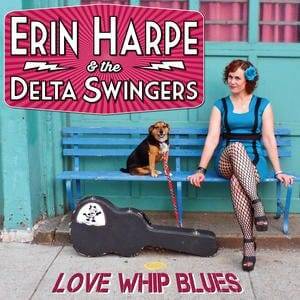 Erin Harpe & The Delta Swingers
Love Whip Blues
Vizztone Label Group/Juicy Juju Records
Erin Harpe is from the Boston area. Her other band Lovewhip combines electro-pop with funky dancehall beats. Between 2001 and 2009 Lovewhip released five albums, the most recent being 2009's "Love Electric", and it included Memphis Minnie's "Chauffeur Blues".
Harpe's own interest in acoustic Blues grew simultaneously and in 2002 she released "Blues Roots". In 2008 she released "Delta Blues Duets" recorded with her dad Neil Harpe.
Erin Harpe and The Delta Swingers were formed in 2010. Harpe calls the bands music Charles River Delta Blues. The band won the 2010 Boston Blues Challenge and they went to Memphis to compete in the International Blues Challenge. It was a learning experience.
Erin Harpe and The Delta Swingers just won the 2014 Boston Blues Challenge and they will be returning to Memphis to again compete in the IBC this coming January. This new album, their first, was released on November 4th.
The band consists of Harpe, vocals, acoustic and electric guitars; Jim Countryman, bass;
Bob Nisi, on drums; and Richard Rosenblatt, harmonicas. Guest musicians include Dave Gross, guitar, piano, bass, mandolin, organ and percussion; and guitarists Bob Margolin and Sonny Jim Clifford. The album is produced by the band with Dave Gross.
Harpe's syncopated guitar picking opens "The Delta Swing" the first of four songs co-written. Harpe's singing and Rosenblatt's harp playing are equally infectious. They also share the writing credit on "Love Whip Blues". "Good Luck Baby" is also from them but with the addition of Countryman. "Virtual Booty Blues" is from Harpe and Countryman. These songs are great fun.
As an avid listener I have an appreciation for good covers of obscure material. Harpe teaches us about Willie Brown who was born in 1900. She covers two songs from Brown. The "Future Blues" and "Mississippi Blues". The latter is appropriately renamed the "Charles River Delta Blues". Brown passed in 1952 so I doubt he will mind.
"One Way Man" is from William Moore, a Virginia bluesman (1893 – 1951). "M & O Blues" was written by Lucille Bogan. Bogan was among the first blues women to be recorded and also recorded under the name Bessie Jackson (1897 -1948). The fabulous "Pick Poor Robin Clean" is from Luke Jordan who recorded the song in 1927. It was also recorded by Ms. Geeshie Wiley in 1931. "Angel From Montgomery" is from one of our greatest songwriters, John Prine, and Harpe does a beautiful job on this soon to be classic.
Harpe's future shines bright, as she is a fabulous entertainer.
Richard Ludmerer