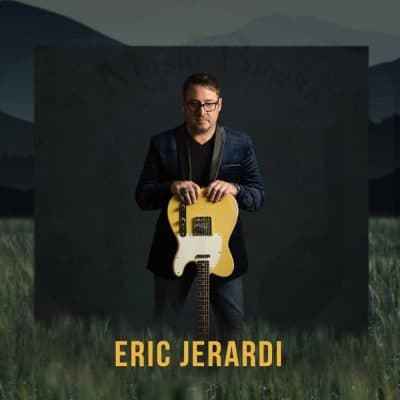 Eric Jerardi
Occupied
Niche Records
Guitarist Eric Jerardi won the Ohio University battle of the bands in 1989. He won again two years later as the Midwest's "Best Unsigned College Band". He recorded his debut album in 1995. Since then he has shared the stage with Little Feat, toured with Robin Trower, and has been featured on the House of Blues radio show with Dan Aykroyd. His fifth album 2007's "Restless" featured keyboardist Al Gamble who played with The Bo-Keys and is currently with St. Paul and The Broken Bones. The last album for the blues rocker was 2013's "Everybody's Waiting" produced by the Grammy award winning David Z.
Jerardi has spent the better part of the last five years honing his skills as a soul blues singer songwriter. For this new album Jerardi has once again teamed with producer David Z. Together they decided to record at the Nutthouse Recording Studio in Sheffield, Alabama. Sheffield was also home to the Muscle Shoals Sound Studio and Rick Hall's Fame Studios. For the sessions they decided to enlist many of the same musicians that played on those classic recordings.
The band heard here includes Jerardi, guitar and vocals; David Hood, one of the original founding members of the Muscle Shoals Rhythm Section a.k.a. the Swampers, bass; keyboardist Clayton Ivey, a member of the Fame Gang and latter the Muscle Shoals Rhythm Section, piano and organ; Milton Sledge (who played with Garth Brooks and many other Country artists), drums; and Kelvin Holly (of the Amazing Rhythm Aces who also recorded with Bobby "Blue" Bland), rhythm guitar. The three piece horn section is led by trombonist Charles Rose, a member of the Muscle Shoals Horns who also wrote the horn arrangements; Steve Herman (who played with Delbert McClinton and toured with Bob Seger), trumpet; and Doug Moffet, sax. The background singers, Marie Lewey and Cindy Walker, are also veterans of the Muscle Shoals Sound Studio.
Six of the seven songs are written by Jerardi. These are excellent songs especially the title track with the lyric "I can't be alone, starring at your picture one more time, had the rug pulled out and I'm still in doubt that you're gone…so I'll have another drink, but I can barely drink this off my mind…I don't want to cry, just keep me Occupied". Jerardi is an emotive singer inspired by this outstanding band.
"Do Right By Him" is another great song. The only cover is Jerry Lynn Williams "Don't Take It Personally" previously recorded by Coco Montoya. David Z's production is stellar.
This is a wonderful entry into the soul blues genre. The only problem is its way too short and will leave you begging for more. Hopefully we'll hear more soul blues from Jerardi soon.
Richard Ludmerer