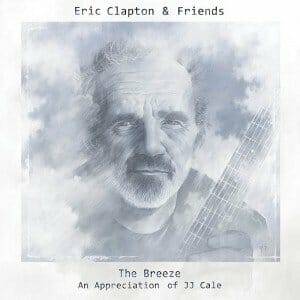 Eric Clapton & Friends "The Breeze – An Appreciation of JJ Cale" www.Surfdog.com www.EricClapton.com
Starting with Eric Clapton's 1970 self-titled debut solo album, Clapton started a decade's long affection for JJ Cale. They also recorded together on the '06 "The Road to Escondido." Last year Cale passed-away so it was not a stretch (but a very pleasant surprise) to have this very heartfelt and near-perfect reflection album of Cale's related material. Contributors include the leader (Clapton) with well-chosen guests: John Mayer, Mark Knopfler, Tom Petty, Willie Nelson, Derek Trucks and other well-known artists.
There are many highlights but the ones that jumped out for me started with the title track with Clapton handling the Cale like vocals and laidback but tasty guitar work with the great Albert Lee. Clapton and Tom Petty share the vocal chores on "Rock and Roll Records." Next is "Someday" with Mark Knopfler's guitar and vocal who's a noble Cale fit vocally and for his sweet guitar. John Mayer and Clapton swap vocals and guitar playing on "Lies" that is reminiscent of the Atlanta Rhythm Section's "So Into You" percolating groove. The Oklahoma singer Don White sings and adds his guitar on "Sensitive Kind" that also works well. John Mayer shows immense versatility shining mightily on vocals and guitar alongside Clapton on the drop-dead gorgeous "Magnolia" which is probably my favorite track. Petty and Clapton duet on "I Got the Same Old Blues" with added guitar work from Reggie Young who duels smartly with Clapton. Willie Nelson brings his vocal and guitar along with David Lindley on "Songbird" suggesting a more country temperament. Clapton's guitar oozes of Cale like sounds on the hypnotic "Since You Said Goodbye." Petty returns for "The Old Man and Me," exhuming Cale like vocals with nice fills from pedal steel guitarist Greg Leisz. Clapton, Knopfler and White all chime in on "Train to Nowhere" featuring dazzling guitar tradeoffs as everyone's seemingly enjoying the train ride. Willie Nelson returns for short "Starbound" and takes along Derek Trucks. Easily the most rocking track "Don't Wait" fetches back John Mayer's vocal and guitar with Clapton grinding the blues on guitar and background vocals. The finale is the fitting "Crying Eyes" with Christine Lakeland (who co-authored with Cale, on the previous "Don't Wait") on vocals, with Derek Trucks who adds a tender slide solo that sounds so right.
When I first heard JJ Cale's earliest recordings I could never understand why JJ Cale rarely stretched out his guitar solos as his tasteful guitar immediately attracted my imagination. As I grew older (and arguably wiser) I realized that Cale's genius was his understated guitar playing style, so some forty years later my appreciation of Cale's sparse guitar playing grows on. Especially when you package Cale's subtle guitar with his haunting vocals and keen songwriting skills – exemplifies the unique JJ Cale persona as one of the great stylistic musicians of all time. That being said this recording captures JJ Cale's spirit. Everything moves along at "his" similar relaxed pace – where I'm sure that Cale would have approved "The Breeze – An Appreciation of JJ Cale." It's a definitive recording that is as close to recreating a lifelike extension of Cale's legacy as a musician. It's also one the best recordings of 2014. Enjoy!
For fifteen years Bob Putignano has been pivotal at WFDU with his Sounds of Blue radio show: www.SoundsofBlue.com – Previously a senior contributing editor at Blues Revue, Blueswax, and Goldmine magazines, and currently the Music Editor for the Westchester Guardian Newspaper www.WestchesterGuardian.com and now at: www.MakingAScene.org
Putignano can be directly contacted at: bob8003@yahoo.com
Bob Putignano: www.SoundsofBlue.com
Weekly Music Editor at: https://www.WestchesterGuardian.com – NYC area Newspaper Now celebrating 15 + years on the air at WFDU https://wfdu.fm