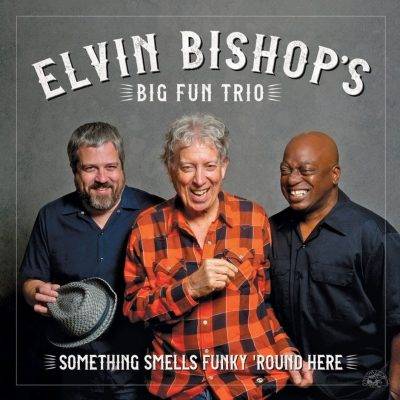 Elvin Bishop's Big Fun Trio
Something Smells Funky 'Round Here
Alligator Records
In high school Elvin Bishop won a full scholarship to attend The University of Chicago and he arrived there in 1960. Three years later he met Paul Butterfield and joined his band. Bishop left the Paul Butterfield Blues Band in 1968 to start his own band. Bishop recorded with Capricorn Records in 1974. His next album included the single "Fooled Around and Fell in Love" and the song reached #3 on the Billboard Hot 100.
In 1988 Bishop signed with Alligator Records and in the twelve years following released five albums including 1995's "Ace in The Hole". He has since recorded with the Blind Pig and Delta Groove Record labels before resigning with Alligator and releasing 2014's "Can't Even Do Wrong Right". As a direct result Bishop won three 2015 Blues Music Awards; Album of The Year, Song of The Year, and Band of The Year. He was also inducted into both The Blues Hall of Fame, and The Rock and Roll Hall of Fame.
Bishop, guitar and vocals, formed The Big Fun Trio in late 2015. Rounding out the threesome are Bob Welsh, guitar, piano and organ; and Willy Jordan, percussion and vocals. Jordan's primary instrument is the Peruvian Cajon, a drum box, which can sometimes sound like a full drum set. Their self titled first album received a 2018 BMA nomination as Traditional Blues Album of The Year. This follow-up is Bishop's twenty-first studio album and twenty-ninth overall.
Five songs are written or co-written by Bishop with Jordan and Welsh. The title track is a tune that points to the current political state in Washington. "Something Smells Funky 'Round Here" is both topical and funky; it is delivered with Bishop's rather unique, but hilarious, sense of humor. A second topical song "Looking Good" is a slow blues with Bishop's narrative about being an elder in today's society.
Bishop reprises two of his older tunes including "Right Now is The Hour" and "Stomp". Bishop's fantastic rhythm guitar opens "That's The Way Willy Likes It" with Jordan singing lead and Bishop joining him for the chorus. Bishop also sings on a cover of Dave Bartholomew's "Another Mule".
Jordan possesses a beautiful voice and he reaches for the high notes on two classics. "You're Love Keeps Lifting Me (Higher and Higher)" originally sung by Jackie Wilson features Jordan's falsetto. "I Can't Stand The Rain" co-written by Ann Peebles and Don Bryant was a hit for Peebles in 1973. The latter also features Welsh on organ while "Bob's Boogie" is a fabulous instrumental written by Welsh and featuring him on piano.
Closing out the album is a cover from Clifton Chenier. "My Soul" sung by Jordan also features Andre Theirry on accordion.
The Big Fun Trio continues to have fun and inspire each other while they make their own brand of Traditional Blues.
Richard Ludmerer
[amazon_link asins='B07D33WZ34,B01NBHWEP7,B001O0FEHO,B001O0BK72,B00L2QTQCE,B001O09ECA,B0054IN14K,B001F7RYUG,B001O01O2S' template='ProductCarousel' store='maasc-20′ marketplace='US' link_id='a9955639-861d-11e8-9fe2-ef9ea1ccc704′]