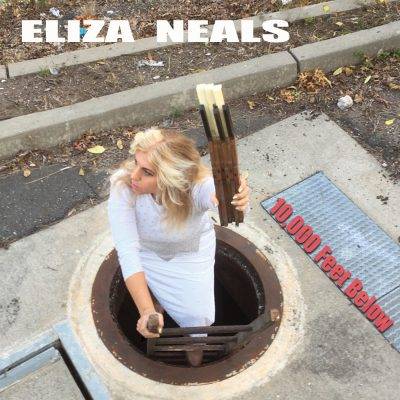 By Rhetta Akamatsu
What happens when you take one former opera singer (Eliza Neals), one guitar legend (Howard Glazer),and a total of 17 musicians, send them to 5 studios and try to create something new in modern blues-rock?
You get a phenomenal album called 10.000 Feet Down.
To try to describe the sound of this record, take the blues. Give them to a Detroit girl who teams up with a psychedelic guitarist. Steep those blues in Detroit sound. Then stretch them to their absolute limits before returning them to their roots. There you have a fair approximation.
A warning to blues purists: You won't like this. In fact, it may scare you, To all you people who aren't blues purists, I think you are going to love this, although some songs may take more than one listen.
Eliza's voice is powerful, with an incipient wildness that sometimes seems barely controlled. But it can also become softer when she wants it to. By using so many musicians on this album, she could create many different sounds. Glazer plays in all but two songs, which feature Paul Nelson and Billy Davis. She uses five different bassists and four drummers, and then she herself handles vocals and plays piano, Hammond B3, Rhodes, and tambourine.
It was like having her own chemistry set, and while it could have ended up chaotic, instead all those ingredients created an album that always sounds like it belongs together and could only come from Neals, who wrote or co-wrote all but one song.
You know from the start you are going to hear something different wit the dark, swampy "Cleotus" and the mysterious, haunting "Another Lifetime," with its vocal that does sound as though it is coming from somewhere distant from the listener. Both of these songs depend on Glaser's guitar to draw you in.
Next "Burn The Tent Down" starts with a quirky intro and then becomes purely rocking blues with lyrics that will grab you, shake you up and not let go. The title track, "10,000 Feet Below," exemplifies the controlled feral quality Neals is capable of projecting.
"You Ain't My Dog No More features amazing guitar from Glazer and powerful lyrics from Neals as she kicks her pet to the curb. Did I mention this woman's got attitude?
Things quiet down for Cold, Cold Night," featuring that more controlled vocal style I mentioned and with Paul Nelson, who played with Johnny Winter, on guitar and Eliza letting her piano skills shine. After it comes the one cover on the album, which I personally am in love with. It's Skip James' "Hard Killing Floor," a haunting song that becomes even more so in Neals' ethereal version. This is definitely an album highlight.
"Call Me Moonshine" is another hard-hitting number with an undeniable edge of danger in Eilza's voice . It features Glazer's amazing guitar that is so essential to this album. "Downhill On A Rocket" is a rocker that offers great drumming from Rubin Nizri and bass by Mike Griot.
Returning closer to the blues, this time Southern style, Eliza shows us all that attitude again on "Merle Dixon," before showing her sweet style and her piano skills on the long closing cut, "At The Crossroads," with former Hendrix band member Billy Davis on guitar. This is one of Eliza's best compositions so far, I think.
Eliza Neals is a marvel. She and Glazer are a great musical pairing, but playing with so many different musicians really shows what a chameleon she is and her ability to bring out the best in the already great with this album. She has once again given us something which could only be hers and if you like your blues-rock with an edge, this is it!
[amazon_link asins='B00TJLZNSA,B01HUSL81Y,B0078467VW,B001AIU5MY,B0012L3Y4K,B01HUSL8N2,B00TJLZRW2,B00721IA2U' template='ProductCarousel' store='maasc-20′ marketplace='US' link_id='2bf7f9ca-f3c4-11e6-af27-8bbf99fb005f']