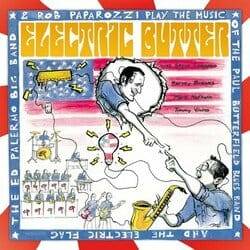 Rob Paparozzi & The Ed Palermo Big Band
Electric Butter/Play the Music of Butterfield & The Electric Flag
Independent
Rob Paparozzi, vocals and harmonica, is a New Jersey based session musician who has toured with "The Original Blues Brothers Band" and also as lead vocalist in the reformed "Blood, Sweat and Tears". He has played with everyone from Bruce Springsteen to George Jones. Paparozzi also fronts his own band "The Hudson River Rats", sometimes with legendary drummer Bernard "Pretty" Purdie, and their last album was 1999's "Get It While You Can". Paparozzi's first album in his own name was 2009's "Etruscan Soul" and it received rave reviews.
The Ed Palermo Big Band has been active for thirty-five years. Palermo is an alto saxophonist/guitarist turned big band leader that is best known for his arrangements of the music of Frank Zappa. Palermo has released six recordings the most recent being "Oh No!! Not Jazz!!" a double album; one disc of Zappa and the other all original material.
Fourteen years ago, after first hearing Palermo's band perform the music of Zappa, Paparozzi hired Palermo to arrange and chart the music of Paul Butterfield and Michael Bloomfield. The Paul Butterfield Blues Band and The Electric Flag turned a generation onto electric Blues. Included is a sixteen page booklet designed by Mason Ellis and Butterfield historian Tom Ellis III.
The fourteen tracks were recorded live in the studio. Some overdubs were accomplished later. Conductor Palermo's big band includes Paparozzi; Paul Adamy, bass; Ray Marchica, drums; Bob Quaranta, piano; Ted Kooshian, keyboards; George Naha, guitar, and a ten piece horn section.
Paparozzi shares this stage with each and every musician involved in this loving project. There are several special guests. Guitarist Steve Cropper is featured on "You Don't Realize". Jimmy Vivino guests on "Killing Floor" and he takes a long guitar solo. Original Electric Flag bassist Harvey Brooks appears on "Texas". Original Paul Butterfield Band member Mark Naftalin, keyboards, joins the big band for both "Drifting Blues" and "Drivin' Wheel".
Other highlights include "Lovin' Cup" featuring soloists Ben Kono, tenor sax; Ron Buttacavoli, trumpet; Joe Fiedler, trombone, and Kooshian. "Everything's Gonna Be Alright" has solos by Barbara Cifelli, baritone sax; Charlie Gordon, trombone, and John Bailey, trumpet. "Walkin Blues" features guests Jimmy Leahey, slide guitar, and Ed Alstrom, B3. "Walking By Myself" includes an alto sax solo by Cliff Lyons. Jazz trumpeter Nat Adderely's "Work Song", which appeared on The Paul Butterfield Blues Band's second album "East-West", is fabulously re-arranged by Palermo. Other musicians include band members Bill Straub, tenor sax; Dave Rickenberg, alto sax; and Matt Ingman, bass trombone; co-producer Steve Jankowski, trumpet; and guest John Korba, keyboards.
The album closes with an interview with Gabe Butterfield, Paul Butterfield's son. Gabe also sings on the closing track "Buried Alive in The Blues" written by Nick Gravenites of The Electric Flag.
The music of Paul Butterfield, Michael Bloomfield, and The Electric Flag are the soundtrack of our lives. The music has had its effect on all of us but especially on Paparozzi whose passionate vocals and Butterfield like harp solos make him one of our greatest exponents of this music. This is seventy-five minutes of highly recommended listening.
Richard Ludmerer