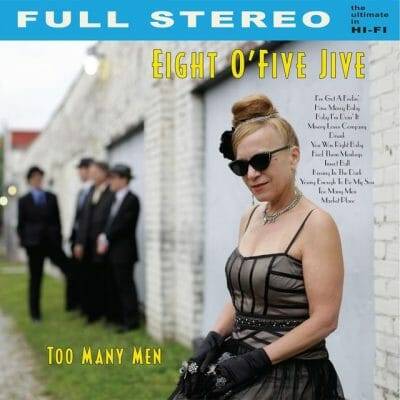 Eight O'Five Jive
Too Many Men
Red Rudy Too Tunes
Eight O'Five Jive were the winners of the 2014 Nashville Independent Music Award for "Best Live Blues Performers". This 12 song jump blues "operetta", as they humorously call their debut album, is a set culled from vintage Rhythm and Blues recordings.
The band is led by vocalist Lee Shropshire. Nashville deejay Pete Wilson says her "impeccable diction…her tone colors pull nuance and implications out of the lyrics. Her phrasing is imaginative and rhythmically hip."Rounding out the "Jive" are Andy Scheinman, guitar and background vocals; Patrick Mosser, sax and background vocals; Bill Bois, bass and background vocals; and Duane Spencer, cocktail drums and background vocals. Just what are cocktail drums?
The band is fully "charged up" by the era and by the songs. The "Jive" open with "I've Got A Feelin" which was recorded by Big Maybelle in 1953. Instead of just recreating the song they inject it with a ska beat and the result is fabulous.
The rest of their songs are equally interesting. "Have Mercy Baby" was first released in 1952. It was sung by The Dominoes led by singer Clyde McPhatter and it reached number one on the R&B chart. "Baby I'm Doin' It" was a hit for Annisteen Allen in 1953.
Peggy Lee was not only a great singer but also a lyricist. She co-wrote and recorded "You Was Right Baby" in 1944. "Kissing in The Dark" was written and sung by Memphis Minnie in 1953. "Market Place" was a single recorded and released by Etta James in 1957.
"Feed Them Monkeys" is from banjoist Susie Monick. In 1970 Monick was a member of the first all-female bluegrass band the "Buffalo Gals".
Crazy humor was a big part of the jump blues of this era. "Drunk" was a 1953 hit single for Jimmy Liggins. It was released on the Specialty label. "Insect Ball" was recorded by Big Jay McNeely in 1955.
There are also three new songs. The title track "Too Many Men" was written by Joss Stone. The other two are originals from our new diva "Lady" Lee Shropshire who has totally absorbed the essence of this era; "Misery Loves Company" and the absolutely hilarious "Young Enough to Be My Son".
This band is much more than jump blues revivalists as Scheinman, Mosser, Bois, and Spencer nail each and every tune. They along with vocalist Shropshire are deserving of a little fuss. Get with Eight O' Five Jive.
Richard Ludmerer