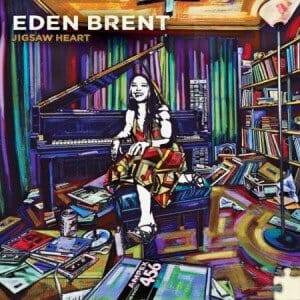 Eden Brent released her first independently produced cd in 2003. In 2006 she won the International Blues Competition for best solo performer. Since signing with Yellow Dog Records, Brent has been nominated for nine Blues Music Awards and won three times. In 2009 she was the Acoustic Artist of the Year and her recording "Mississippi Number One" also won. In 2010 she was named Piano Player of the Year. Her 2011 follow up album "Ain't Got no Troubles" also received a nomination. This is Brent's third release on the Yellow Dog imprint.
Although nicknamed "Little Boogaloo" for her stride-like piano style Brent is so much more. Her sultry southern voice and endearing persona combine with her strong songwriting skills. This new album produced by guitarist Colin Linden features the rhythm section of John Dymond, bass; and Gary Craig drums.
The album opens with the first of six original compositions "Better This Way". This song reminds me of Randy Newman and its intensity is undeniable, as the listener is able to emotionally connect. The strings are beautifully arranged by Chris Carmichael.
"Everybody Already Knows" is what we expect from Brent as she tears into the keys with a Little Richard like fervor. The title track "Jigsaw Heart" features Dan Dugmore's pedal steel. Brent includes three more originals including two about love, one past "The Last Time" and one present "Let's Go Ahead and Fall in Love". Brent's stunning vocals are deeply moving.
Brent covers Joan Armatrading's "Opportunity" and Dr. Billy Taylor's "I wish I Knew How It Feels to Be Free" with lyrics by Dick Dallas. Linden's guitar and Brent's piano combine exquisitely. Linden plays both guitar and mandolin on Jimmy Phillips "Panther Burn" located in Sharkey County, Mississippi. "Tendin' To a Broken Heart" is about love lost and another great vehicle for Brent's expressionism. "Get the Hell Out of Dodge" by Walter Hyatt provides for some added comic relief. The album closes with "Valentine" co-written by producer Linden and Tom Hambridge.
This new album by Eden Brent is so good it even transcends her previous award winning work. Brent is simply a wonderfully adventurous artist. This album is her art.
Richard Ludmerer
Click Below to Listen to and Purchase This CD!!