Earls of Leicester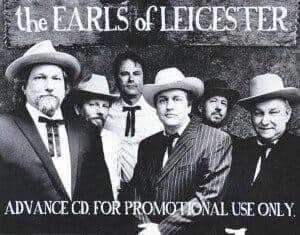 Rounder Records
My love for bluegrass began with Lester Flatt, Earl Scruggs and The Foggy Mountain Boys. Flatt's voice, so laidback and clear, was the greatest American voice. He gave me an appreciation for a Bluegrass tenor and led me to discover other bluegrass and country music singers. As a youngster Scruggs' banjo was the greatest thing I had ever heard. I fell in love with each of the other instruments too.
Among the individual musicians and bands I discovered were The Country Gentleman, J.D. Crowe and The New South, Boone Creek, and The Bluegrass Album Band. All of these bands featured Jerry Douglas on dobro. His love for Flatt and Scruggs paralleled our own and inspired his career. In 1979 Douglas released his first solo album "Fluxology". Douglas has since appeared on over 1600 albums and won many awards including 13 Grammys. This album is something Douglas has wanted to do for many years.
The Earls of Leicester is a play on words and a tribute to Earl and Lester. The idea for this project became a reality after Douglas completed a working session with Charlie Cushman and Johnny Warren. Cushman is a recognized banjo expert on the Scruggs' style. Johnny Warren, fiddle, is the son of Paul Warren who was the fiddle player with Flatt and Scruggs from 1954 until 1969 when he became a member of Lester Flatt and The Nashville Grass. Douglas started out by studying the dobro style of Uncle Josh Graves, the dobro player in The Foggy Mountain Boys. Producer Douglas states he wanted each of the participants to sound like and play their part exactly like the old "Boys" did. The essence of learning is to imitate so producer Douglas carefully chose each of the remaining players so that this project could be properly completed. So Douglas recruited Tim O'Brien, mandolin; and Barry Bales, bass. Now they only needed a vocalist that sounded like Flatt. Douglas found Shawn Camp a bluegrass, country singer-songwriter and 2014 Grammy winning producer of Guy Clark's "My Favorite Picture of You".
They don't just perform the songs of Flatt and Scruggs. Uncannily this band becomes Flatt and Scruggs and The Foggy Mountain Boys. Cushman even plays the banjo behind the vocals just like a young Scruggs. With Camps spot on imitation of Flatt's vocal styling the ensemble sounds just like The Foggy Mountain Boys.
Among the fourteen tracks are "Don't Let Your Deal Go Down", "Shuckin' The Corn"; "Til The End of The World Rolls Round"; "I Won't Be Hangin' Round"; "On My Mind"; "You're Not a Drop in The Bucket"; and "Dim Lights, Thick Smoke".
This is a fabulous recording that will take you back to those good old days. This is highly recommended listening.
Richard Ludmerer