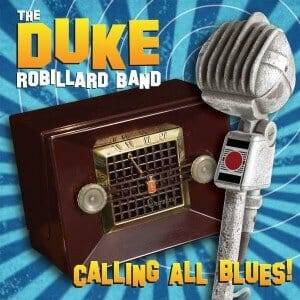 Duke Robillard
Calling All Blues!
Stony Plain Records
In 1967 Duke Robillard formed "Roomful of Blues". Ten years later their self titled first album was released, and although Duke Robillard left in 1979, he began the band that is still in existence today. Count Basie once called them "the hottest blues band I've ever heard." Duke Robillard then formed the Pleasure Kings and in 1990 joined the Fabulous Thunderbirds as Jimmy Vaughan's replacement. After leaving the T-Birds two years later Duke continued to perform and record as The Duke Robillard Band. He is a four time Handy award winner as Best Blues Guitarist having won that award four out of five years from 2000 to 2004. In 2007 and again in 2010 he was a Grammy nominee. He has recorded with and/or produced albums for Jimmy Witherspoon, Jay McShann and Herb Ellis among many others.
Duke Robillard's major influence has always been T-Bone Walker (1910-1975). T-Bone Walker is considered to be the founding father of electric blues, and is credited with adding jazz and swing to the sound. "Roomful of Blues" was crafted as a T-Bone Walker type band. "The First Album", included T-Bone Walker's "Stormy Weather" and "I'm Still in Love with You". This is Robillard's 30th album.
The Duke Robillard Band currently consists of Robillard, guitar and vocals; Bruce Bears, keyboards; Brad Hallen, bass; and Mark Teixera, drums. They all provide background vocals. Guests include Sunny Crownover, lead and background vocals; and The Roomful of Blues horn section of Rich Lataille, alto and tenor sax; Mark Earley, tenor and baritone sax; and Doug Woolverton, trumpet.
Robillard has written eight of the ten songs included. "Down in Mexico" is a Memphis styled song inspired while vacationing in Mexico. "I'm Gonna Quit My Baby" features Duke on slide with a broken hand; he states it gives a funkier sound than usual. "Svengali" was inspired by a character played by John Barrymore in the 1930's movie of the same name. "Blues Beyond The Call of Duty" was written by Robillard for Crownover who sings it beautifully. Robillard states that "Confusion Blues" is inspired by his Attention Deficit Disorder. It is sung by Bruce Bears in a vocal style similar to Mose Allision. "Motor Trouble" is a one chord boogie. "Nasty Guitar" is a bit of Memphis rock n' roll. "Temptation" is the title track from Robillard's 1994 Point Blank Records recording of the same name and it is reprised here.
"Emphasis on Memphis" was co-written by Gary Nicholson and Ron Sexsmith. It's got a
great hook and it could receive significant airplay. "She's So Fine, So Glad She's Mine" was written by Duke Coleman and a hit for The Carter Brothers in 1966.
In my opinion Robillard is one of the two or three best guitarists in the Blues world. He is also a master producer and recorded this album at his own Pawtucket, R.I. studio appropriately named "Duke's Mood Room".
Richard Ludmerer