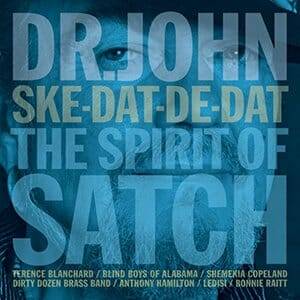 Dr. John
Ske-Dat-De-Dat: The Spirit of Satch
Proper Records/Concord Music
Dr. John is known as the embodiment of New Orleans' musical legacy. He is the winner of six Grammy awards the last being in 2013. Every few years however Dr. John feels the need to reinvent himself.
In 2006 Dr. John released "Mercenery" a tribute to the songs of Johnny Mercer. During an interview Dr. John admitted he enjoyed "screwing with a good song", interpreting it in his own way. He decided to challenge himself again this time by interpreting Louis Armstrong.
"What a Wonderful World" was written by Bob Thiele and George David Weiss and recorded by Armstrong in 1967. Armstrong's recording was inducted into the Grammy Hall of Fame in 1999. Nicholas Payton guests on trumpet while background vocalists are The Blind Boys of Alabama. Featured musicians include Bobby Floyd, Hammond organ; "Big D" Perkins, guitar; Reginald Veal, bass; Herlin Riley, drums, and a six piece horn section. "Gut Bucket Blues" features Payton again on trumpet and a great vocal by Dr. John. Ivan Neville is on Hammond B-3.
"Mack The Knife" was composed by Kurt Weill and Bertoit Brecht and featured in their "Threepenny Opera". A popular version sung by Bobby Darin achieved huge success in 1958. Terrence Blanchard is on trumpet, Dr. John plays keyboards. "Wrap Your Troubles in Dreams" once again features Terrance Blanchard this time with The Blind Boys of Alabama and it is wonderfully produced.
"Tight Like This" features Arturo Sandoval, trumpet, and a vocal by Telmary. Sandoval is also featured on "Memories of You".
James "12" Andrews plays trumpet on "Dippermouth Blues". The horns are arranged by Dr. John and Tom "Bones" Malone. "Sometimes I Feel like a Motherless Child" features a vocal by Anthony Hamilton.
The McCrary Sisters are featured on two tracks. "That's My Home" with Wendell Brunious and "Nobody Knows the Trouble I've Seen" with Ledisi.
"I've Got the World on a String" is a duet with Bonnie Raitt. I'm reminded of "In a Sentimental Mood" Dr. John's 1989 album which featured him in a duet with Rickie Lee Jones. I like this duet with Raitt even better. "Sweet Hunk O' Trash" is another duet this time with Dr. John and, the new Queen of the Blues, Shemekia Copeland.
The album closes with "When You're Smiling (The Whole World Smiles with You) performed with the Dirty Dozen Brass Band.
We are reminded of the great songs and music of Louis Armstrong, and the uncanny abilities of Dr. John. The doctor is able to find a new groove on each of these song treasures. Dr. John's music defies classification. This is Blues, Jazz, Funk and Soul for those accustomed to Dr. John's intricacies. This is highly recommended listening.
Richard Ludmerer