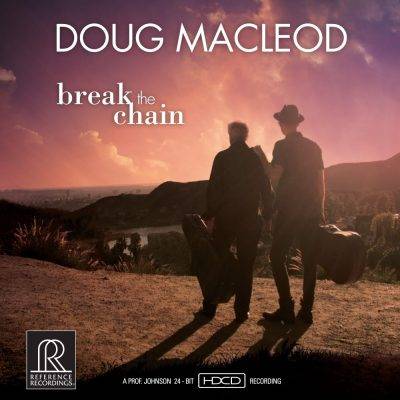 Doug MacLeod
Break The Chain
Reference Recordings
Doug MacLeod was born in New York City in 1946. He became interested in the blues and found that when singing he no longer stuttered. While living in St. Louis MacLeod began playing acoustic country blues guitar and switched to bass when playing jazz or electric blues. His mentor was George "Harmonica" Smith who nicknamed him "Dubb". Smith even guested on MacLeod's debut "No Road Back Home" in 1984 on the Hightone Records label. MacLeod only records his own songs and has written over 300. Many have been recorded by other artists including Dave Alvin, Eva Cassidy, Albert Collins, Albert King, Coco Montoya, Son Seals and Joe Louis Walker.
MacLeod has been nominated for seventeen Blues Music Awards including an amazing ten years in a row for "Acoustic Artist of The Year". Three of his songs have also been nominated "Song of The Year". In 2014 he won both "Acoustic Album of The Year", for his 2013 "There's a Time" Reference Recording, and a second BMA as Acoustic Artist. MacLeod's last studio recording was 2015's "Exactly Like This" also on the Reference label. In 2016 he released "Live In Europe" on the "Under The Radar" imprint. As a result MacLeod won "Acoustic Artist of The Year" again in both 2016 and 2017. This is his twentieth studio recording and twenty-fifth album overall.
MacLeod has a rhythmic guitar style, a soulful voice and loves to tell a story usually via a narrative in which he builds rapport with his audience. His regular band mates Denny Croy, bass; and BMA award winner Jimi Bott, drums; are joined by percussionist Oliver Brown (who has worked with everyone from KC & The Sunshine Band to Nancy Wilson) and special guest, his son Jesse MacLeod, second guitar. Suffice it to say the expanded lineup has added additional drama to the production by MacLeod and Janice Mancuso.
The opening song "Goin' Down To The Roadhouse" draws in the listener. "Well, Saturday night ain't got nothin' to do, I got this time on my hands, I got this money to loose, I think I'll head to the roadhouse and hear me them roadhouse blues, and don't you know they're rockin, they're rockin all night long, everybody be rollin' and carryin' on, headin' down to the roadhouse, down where the lonely belong". Croy and Bott lay the foundation for MacLeod's carryin' on's.
"Mr. Bloozeman" pokes some fun at those blues wannabees. "Now you got 32 harmonicas strapped around your chest and waist, but you can't play one of them with any taste…and whenever you play your guitar you play it way too loud…you Mr. Bloozeman I spell that B-l-o-o "oh-oh" ze. MacLeod dares to ask the question "how bout apprenticing for awhile? MacLeod takes a tasty solo.
I got a "Lonesome Feeling" is a sensitive blues about a woman featuring some fine playing by MacLeod on his National Reso-Phonic guitar. "Travel On", opens with some great percussion from Brown on his congas. The band is subdued so they enable MacLeod to add his own special dynamics to each of these performances.
"LA-The Siren of The West". This song will cause you to really appreciate the bass playing of Croy. "It's four in the morning on Hollywood Boulevard…I saw the children of the hopeful, your fool by the dopeful…" MacLeod is the ultimate storyteller. "One For Tampa Red" is an instrumental inspired by Tampa Red; again Croy is a fabulous companion to MacLeod's playing. "Church Street Serenade" is another absolutely beautiful instrumental that reminds me of John Fahey.
"What The Blues Means To Me" is a narrative about MacLeod's feeling for the music. Only MacLeod can preach like this as this is how he was taught "a little bit of humor will help you overcome adversity, not subject you to adversity".
I got three women on "This Road I'm Walking" "one to do the cooking, a slender woman (for lovin') who's somewhat empty of mind, and an educated woman that talk's too much". The last verse finds the situation has changed "I ain't got no women on this road I'm walking, I do all the cookin, I do the lovin' alone, and I used to do all the talking until Croy came along". Fabulous!
"Oh I Wonder Who's Driving This Bus? all I know is it ain't one of us. Wall street moguls brought our country to its knees, one went to jail you know the rest stayed free, too big to fail too small to succeed". "We're the richest country, our people still starve, mothers and babies eating out of cars…". "Going Home" is a short gospel styled tune "I'm on my way to my home" that really shows off MacLeod's beautiful voice.
"Break The Chain" was co-written with MacLeod's son Jesse. Once again Croy and Bott are superb as MacLeod sings "you got the power to break the chain, you got the power to make a change".
MacLeod's influences not only include bluesmen like George "Harmonica" Smith but also contemporary artists of our generation. This is a beautiful album.
Richard Ludmerer
[amazon_link asins='B0727P78TR,B00SHEOM7S,B00B27WSXM,B01FJVP2OI,B000N0LJ0C,B004INNRCI,B000003HL9,B000000ZO6′ template='ProductCarousel' store='maasc-20′ marketplace='US' link_id='7451fbf5-61c9-11e7-93a3-a5684a8b3593′]