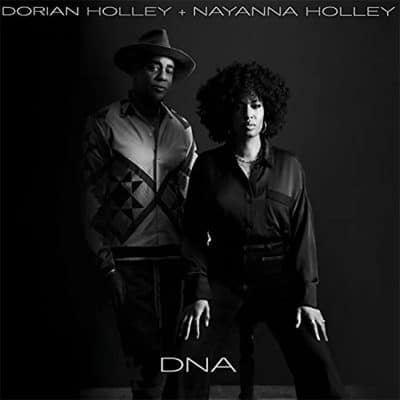 Dorian and Nayanna Holley
DNA
Ropeadope
Sometimes it's just refreshing to hear an album of familiar tunes, rendered by unfamiliar artists who put their own special stamp on the tunes. This is the case for the father-daughter team of Dorian and Nayanna Holley. Dorian was a backup singer for Michael Jackson and was the musical director of Jackson's last tour. As an in-demand backup he has also worked for Rod Stewart and James Taylor, among others. Nayanna followed in her dad's footsteps, weighing in as a "bkg" for Kelly Clarkson, Pink, St. Vincent, Sheryl Crow and more. Together on DNA they perform their favorite songs from the '70s and '80s with an elite backing band. Bassist Kaveh Rastegar (john Legend, Sia, Bruno Mars, Bruce Springsteen) produced and played with renowned keyboardist Larry Goldings (Dave Stryker, Peter Bernstein, John Scofield as well as John Mayer and James Taylor on the pop side), guitarist Chris Bruce (Seal, Meshell Ndegecello) and drummer Abe Rounds (Ndegecello, Billy Valentine). It's a small, tight combo that allows the two voices to shine.
Nayanna went to school with Gerald Clayton and Alex Isley, both sons of famous musicians. Her dad, Dorian is also a vocal coach for many singers, and she essentially grew up on the road, for Jackson's tours, starting with BAD when she was just three years old. Today father and daughter often find themselves in the same sessions including for the 2016 film, Hidden Figures, and later as part of the Oscar 2020 ceremony choir. During the pandemic they recorded a version of Curtis Mayfield's "People Get Ready" with Bruce and Rastegar backing them. That was the impetus for Rastegar to encourage them to make this album. Basically, using the blueprint of Roberta Flack and Donny Hathaway's 1972 duo album, it wasn't long before the tape started rolling. They did try to avoid duets; after all it's just a bit weird having a father and daughter singing love songs. Instead, these are mostly songs about unity, need for each other, and hope to emerge from the pandemic times when they were recorded. The result is probably one of the most conventional albums in the progressive Ropeadope catalog. Better yet, it is unequivocally one of the most soulful.
The album begins with Steve Winwood's oft covered tune, originally recorded with Blind Faith, "Can't Find My Way Home" with father and daughter trading verses and choruses while allowing Goldings to do his thing on the B3. "People Get Ready" stays fairly faithful to the aforementioned video, crafted in the vein of The Impressions, with The Holleys adding their own riff over the ending vamp. Dorian's falsetto blends perfectly with his daughter in "People Make the World Go Round," originally done by The Stylistics. The only male/female duet is also the most recent of the tunes, Peter Gabriel's "Don't Give Up," of course performed with Kate Bush in 1986. Gone is the ethereal feeling of the original as The Holleys keep every bit of the aching vocals but deliver it as a transformative gospel hymn. While Rastegar adheres to the original bass part, Rounds and Goldings go deeper into gospel in the mid-section.
Nayanna goes solo with a breathy, intimate take on The Beatles "Blackbird" with Rastegar on acoustic bass and Goldings on organ. She fills that famous missing guitar part with her own melodic touch. The duo casts some new clarity of the '80s hit "Drive," in painting the emotional burden of caring for someone who doesn't reciprocate. "Somewhere" is inspired by Roberta Flack's version of the song that dates to West Side Story, another deliciously mellow take that makes the lyrics that much more provocative. They reach deep and find the funk in a sweaty treatment of Marvin Gaye's "Inner City Blues" before applying their heat to The Isley Brothers' "Harvest for the World," with the combo percolating underneath, Goldings on both electric piano and organ. George Benson's "New Day" gets a brisk R&B treatment with Dorian's falsetto and Nayanna's vocals meshing so well. So many artists have covered Bill Withers' "Grandma's Hands" yet these two find a way to put their own funky stamp on it. The way they trade off is beyond infectious. What better way to wrap this session than with a Stevie Wonder tune, choosing one that's more obscure, "Joys Inside My Tears" from Songs in the Key of Life. Nayanna goes up an octave higher than one would expect, creating more a contrast than a blending of the voices as they give it the gospel touch, replete with Goldings' church-sounding organ.
Two backup singers come to the forefront. The lingering question might be "What took so long?" Certainly, there must be more where this came from.
Help Support Making a Scene
Your Support helps us pay for our server and allows us to continue to bring you the best coverage for the Indie Artists and the fans that Love them!
Make a one-time donation
Make a monthly donation
Make a yearly donation
Choose an amount
Or enter a custom amount
$
---
Your contribution is appreciated.
Your contribution is appreciated.
Your contribution is appreciated.
Donate
Donate monthly
Donate yearly
You can donate directly through Paypal!
Subscribe to Our Newsletter