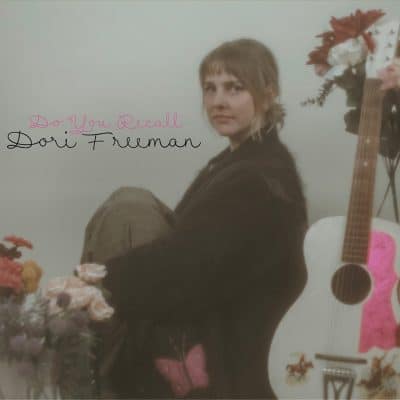 Dori Freeman
Do You Recall
Blue Hens Music
Do You Recall is the fifth album from evolving singer-songwriter Dori Freeman. Here first three were recorded in NYC and produced by Teddy Thompson but Freeman began to blend electric with acoustic sonics on her 2021 Ten Thousand Roses and continues in that direction with this electrified effort, like that one, produced by her husband and multi-instrumentalist Nicholas Falk who is also a touring member of Hiss Golden Messenger, Caamp and Seth Walker. None of this is to suggest that Freeman has left her rural, Appalachian roots behind. She and Falk crafted the album in a small, timber-framed recording studio they built in their backyard, tracking songs during the day while their daughter went to school. While Falk sings, plays drums, baritone guitar, and banjo, several musicians helped shape the sound. They are Adam Agati (electric guitar), Dashawn Hickman (steel guitar), Jeff Hill (electric bass on eight tracks) and Alex Bingham (electric bass on three tracks). Falk also sprinkled in sampling, synths, and Mellotron. The album was recorded in Freeman's hometown of Galax, Virginia.
Thematically Freeman's songs range from motherhood, marriage, and her view of modern-day Appalachia, the latter partly an effort to tear down some stereotypes. We find Freeman embracing a bit of soothing pop on the relaxed opening title track, with teeming vocal harmonies on the choruses as she reminisces about the early days of love. That relaxed pace continues in the shuffle "Wrong Direction" about a marital bump in the road with the protagonist having difficulty getting through to the other ("I don't want to be the last word of a long discussion") The first of the two Appalachia related songs is "Soup Beans Milk and Bread" with Freeman's painting a dichotomy between the self-sufficient nature of the its people and the greed of government and business ("Old Appalachia is a rich man's drug"). In the foot tapping "They Do It's True" she doubles down with this eviscerating verse – "And God forbid you're black or brown/And ain't no woman safe or sound/When the rules they make/Are made to shit on you."
The second single "Movie Screen" is sparser in terms of sonics, a gentle front porch-like acoustic lullaby where the movie screen becomes the metaphor for escape to entertainment in general. Written during the pandemic, the gist of the song is in these verses – "Well I go to the movies so I can be free, to sail far away with the man on the screen. And though it ain't real and though it ain't true, it eases my mind for an hour or two."  Freeman channels '90s country on "Why Do I Do This to Myself," infusing the tune with pop hooks and power chords. Basic rock n' roll is at the heart of "Good Enough" which features Teddy Thompson on vocal harmonies. While Freeman and Thompson collaborated on her first three albums, this marks the first time that Freeman has turned to other co-writers. Falk contributed to the standout "River Runs," adding psychedelic effects with feedback and reverb enveloping the primary instruments, his banjo, Agati's twangy telecaster, and Hickman's steel. Her father helped on the acoustic folk of "Laundromat," where taking comfort in a mundane task offers both a means of escape and way to move forward.
Freeman may sing rather innocently but she's got plenty to say both about daily routines that we can relate to and in an outspoken way about the oft scorned region where she lives. In the process, the sonics and subject vary enough to keep the listener engaged. She never gets preachy; she's just honest and forthcoming.
Jim Hynes
Help Support Making a Scene
Your Support helps us pay for our server and allows us to continue to bring you the best coverage for the Indie Artists and the fans that Love them!
Make a one-time donation
Make a monthly donation
Make a yearly donation
Choose an amount
Or enter a custom amount
$
---
Your contribution is appreciated.
Your contribution is appreciated.
Your contribution is appreciated.
Donate
Donate monthly
Donate yearly
You can donate directly through Paypal!
Subscribe to Our Newsletter