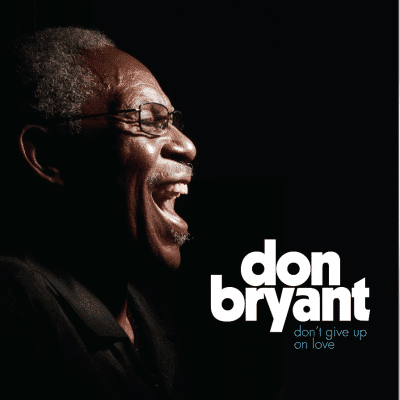 Don Bryant
Don't Give Up On Love
Fat Possum Records
Don Bryant was born in Memphis in 1942. He began singing in his father's gospel group at the age of five. The Five Bryant Bothers sang on Cane Cole's radio show as The Four Canes. They later sang secular songs as The Four Kings and were noticed by trumpeter/bandleader Willie Mitchell and began singing with him.
Bryant wrote "I Got To Know" recorded by The Five Royales in 1960. His first solo recording was a cover of Chris Kenner's "I Like It Like That" in 1964. Bryant's first full length album was 1969's "Precious Soul".
Mitchell also ran the Royal Studios and founded Hi Records. In 1972 Mitchell matched Bryant with Ann Peebles and together they wrote some of her signature songs including "I Can't Stand the Rain" and "99 Pounds". Two years later they were married. Bryant later became a staff songwriter for Hi Records penning songs for Al Green, Syl Johnson, O.V. Wright and Otis Clay. Bryant took a hiatus from the recording industry but between 1987 and 2000 he recorded three gospel albums. In 2012 Peebles suffered a stroke and they both retired from touring.
Howard "Bulldog" Grimes convinced Bryant to perform with the Bo-Keys and Bryant sings the vocal on "Heartaches By The Number" the lead track off of The Bo-keys 2016 album of the same name. That led to this new recording also produced by Bomar and Bruce Watson and recorded at Bomar's Electraphonic Recording Studios in Memphis.
The band includes Bryant, vocals; Grimes, drums; Bomar, bass; Hi veterans Charles Hodges and Archie "Hubbie" Turner, keyboards; Joe Restivo, guitar; and the horn section of Marc Franklin, trumpet and arrangements; and Kirk Smothers and Art Edmaiston, saxophones. The background vocalists include Percy Wiggins; Courtney Barnes; Chris Barnes, Susan Marshall and Daunielle Hill. Strings are provided by Jonathan Kirkscey, Jesse Munson, Yennifer Correia and Jennifer Puckett.
Bryant opens the recording with "A Nickel and a Nail" written by Vernon Morrison and Don Robey and a 1971 hit for Wright. At the age of 74 Bryant's voice is strong but mellow and full of nuance and emotion. This is a great version.
"Something About You", featuring Restivo on guitar, is the first of three new songs co-written by Bryant and Bomar; the others being the title track, "Don't Give Up on Love" and "What Kind of Love". Two more new songs from Bryant include "Can't Hide The Hurt" and "How Do I Get There" a gospel soul blues tune about the promise of an afterlife.
Another new song "One Ain't Enough (And Two's Too Many)" was written by Bomar and John Paul Keith who also sits in on guitar.
Bryant reprises two older songs he wrote. The above mentioned "I Got To Know" and "It Was Jealousy". The latter was recorded by both Clay in 1974 and Peebles in 1976.
The only cover is "First You Cry" written by the late David Egan and Buddy Flett. It was previously recorded by Percy Sledge in 1994 and by the Lil' Band of Gold, featuring Egan on keyboards, in 2000. Bryant's version is highly emotive.
Bryant recently opened for Bonnie Raitt at Lincoln Center Out of Doors where he played to a crowd of approximately 4000. He and his seven piece band were both sensual and expressive.
Bryant's mature voice is honed by years of experience. As a soul survivor he is both thrilling and inspiring. This album is highly recommended.
Richard Ludmerer
[amazon_link asins='B01MV01JKT,B06X3QHMYT,B06X3QRDLR,B00864607O,B004HKIWY0′ template='ProductCarousel' store='maasc-20′ marketplace='US' link_id='344400db-8837-11e7-9437-8fb1a300ad98′]