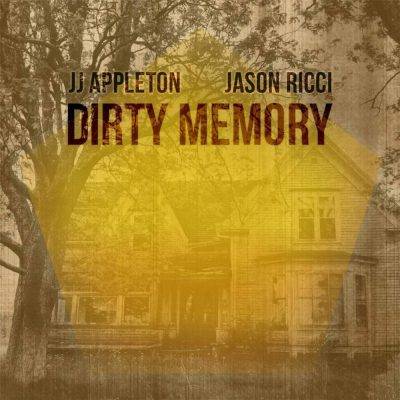 Jason Ricci and JJ Appleton
Dirty Memory
Dirty Memory is as different as possible from Jason Ricci's Approved By Snakes, so if that is what you are expecting, get it out of your head! Ricci has teamed up with New York City singer/songwriter JJ Appleton to give us something much more laid back. This one is pure blues, ranging from traditional to modern, but always totally acoustic and using just that amazing harmonica, guitar, bass, and vocals. And it is just about perfect.
The chemistry between Ricci and Appleton is obvious from the beginning. The album begins with "Leaning Blues," with Appleton nailing the vocals while Ricci wails on harp and Appleton's resonator provides the perfect backbone. Then comes Blind Willie Johnson's "Nobody's Fault But Mine," giving the guitar and Appleton's strong singing a chance to shine, with Ricci adding a charmingly playful harp solo before the end vocal. Ricci starts out "Can't Believe It's This Good," while that resonator dances along with the harp and Appleton delivers the sexy vocal in a blues pop masterpiece that proves you don't need electricity to rock!
"New Man" features sly lyrics delivered with proper attitude by Appleton with perfectly blended guitar and harp. Ricci really breaks out on the instrumental part and shows why he is a wizard on the harmonica, in my opinion, the best there is. "Jason Solo" is just that, and it is sublime, while "Just Enough" is a cool, rambling number that really illustrates the communication between the singer and the harp player.
Next, "At the Wheel Again" lets Ricci wail while Appleton delivers the vocals with the necessary urgency to match him. Then comes one of the highlights of the album. the Rolling Stones' "Black Limousine." Appleton delivers the vocal with plenty of swagger while Ricci's harp complements his vocal perfectly. There's some really nice resonator work as well. "Demon Lover" is a hypnotic swampy blues unlike anything else on the album, which leads into the crisp pop-soul of Gary US Bonds' "It Ain't No Use." The album ends with the comfortable "Come On Over, Come On By," which lets Appleton show his skill with the resonator.
For an acoustic album to work, the musicians have to sound as though they fit together. Jason Ricci and JJ Appleton fit. Aside from that, everything else works as well, with perfect song choices and superb sound quality. This is probably as near a perfect acoustic blues album as you will find this year.
[amazon_link asins='B00YDWNQSY,B00YDWNXA0,B00YDWO156,B00YDWO9DK,B00YDWOE7G,B00YDWNZ76,B00YDWOBPQ,B00YDWO5M0,B00YDWO3SG' template='ProductCarousel' store='maasc-20′ marketplace='US' link_id='f99754c2-a283-11e8-ad2e-6b2203303dbf']
[amazon_link asins='B0724ZYZ5L,B0025Z0E2M,B0010SS34G,B000FTKYZW,B001JBCIMM,B00BV53RQM,B00YDWNQSY,B00BYGQW5Q,B01IA4N3D8′ template='ProductCarousel' store='maasc-20′ marketplace='US' link_id='037c231c-a284-11e8-a94a-0381ac0ac5bc']