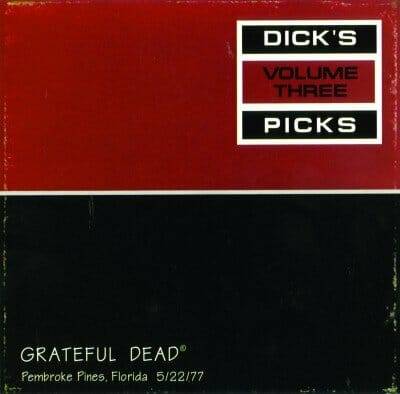 Grateful Dead "Dick's Picks Volume Three" Pembroke Pines, FL 5/22/77 (2-CD's) www.RealGoneMusic.com
This is a prime edition snapshot of the Dead's 1977 late springtime tour that was recorded at the now defunct Sportatorium in Florida. Releasing the entire evening performance would've necessitated a three disc box-set, and the powers at www.Dead.net didn't think there would have been enough demand for a three CD set. Not a problem, eight tunes were left off, so this two -disc set is not the entire performance from May 22nd. But given the magnitude of this set I would have liked to have heard those eight missing songs.
Disc one: Opens with a short and playful "Funiculi Funicula" that erupts into a potent "The Music Never Stopped," where even Donna sounds focused. Next is an epic nearly sixteen minute version of "Sugaree" that consistently receives high marks from Deadheads as one of their best renditions. Weir's "Lazy Lightning" segue to "Supplication" is another delight. Martha & the Vandellas "Dancing in the Streets: takes the old soul classic to new heights and enters into the disco-Dead zone, talk about funky and tight –wow! Closing the first set is an expansive and spacious (twenty-seven minute) three-song segment of "Help on the Way," "Slipknot!" that concludes with "Franklin's Tower," the latter clocking in at nearly sixteen minutes all by itself! Note: Garcia's guitar excursions during the instrumental "Slipknot!" are amongst his finest licks on this very fine recording.
Disc two: "Sampson and Delilah" unceremoniously opens the second set, and Donna Godchaux's "Sunrise" follows. But the five-song ("Estimated Prophet," "Eyes of the World," "Wharf Rat," "Terrapin Station," "(Walk Me Out In the) Morning Dew," runs nonstop for nearly one hour of Deadhead nirvana and is the centerpiece of this very special evening. It also was a sequence that I don't believe was ever repeated; it's definitely a gem that can and endure repeated listens that won't fatigue the most musically inclined persons ears and senses. It was also noted as being one of Dick Latvala's favorite shows, need I say more?
I would be remiss to not mention Betty Cantor-Jackson who deserves major kudos for her efforts of perfecting the art of recording the Grateful Dead. Her tapes were rightfully nicknamed; the "Betty Boards." Translation: high-grade and exquisite soundboard recordings that stand tall when compared to other concert recordings. This recording is crisp, clean and lifelike, and offers the listener a being-there-in-the-audience experience. Enjoy.
Musicians: Jerry Garcia – lead guitar, vocals, Donna Jean Godchaux – vocals, Keith Godchaux – keyboards, Mickey Hart – drums, Bill Kreutzmann – drums, Phil Lesh – bass, Bob Weir – guitar, vocals
Caveat Emptor: "This show was originally recorded on analog tape manufactured in the late 1970s. Many tapes from this period have exhibited severe deterioration in recent years. The chemical formulation has failed over time causing the magnetic oxide (which holds the musical information) to separate from the Mylar backing. Fortunately we were able to recover the music on these tapes by using a baking process which re-bonded the oxide to the tape. While the results of this restoration were quite remarkable, occasional weirdness remains."
For 17 years Bob Putignano has been pivotal at WFDU with his Sounds of Blue radio show (Wed. & Fri. 9am-1pm) www.SoundsofBlue.com – https://wfdu.fm Previously a contributing editor at Blues Revue, Blueswax, and Goldmine magazines, currently the Music Editor for the Yonkers Tribune www.YonkersTribune.com & www.MakingAScene.org Bob was also the 2003 recipient of the "Keeping the Blues Alive" award (given by the Blues Foundation in Memphis) for his achievements in radio broadcasting. Putignano can be contacted at: BobP@SoundsofBlue.com