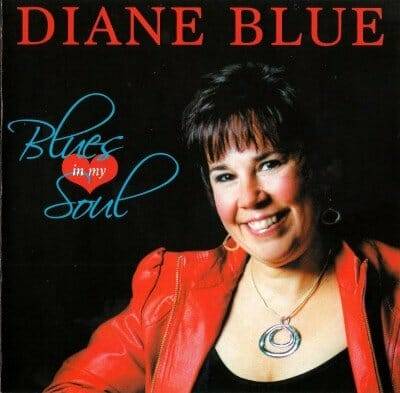 Diane Blue
Blues in My Soul
Regina Royale Records
Diane Blue has shared the stage with Luther Guitar Jr. Johnson; Irma Thomas; Big Jack Johnson and others. In 2006 Blue released, "Here I Am", her independently produced debut recording. In 2010 Blue won the Massachusetts Blues Challenge and went onto compete in the International Blues Challenge held annually in Memphis. Blue has appeared on Ronnie Earl and The Broadcasters three most recent albums and is currently on tour with them as the bands vocalist and first female member.
This new recording includes Blue, harmonica, guitar, and vocals; Broadcaster Dave Limina, piano and Hammond B-3; Broadcaster Lorne Entress, drums; Jesse Williams, bass; and Bobby Gus, guitar. The horn section of John Moriconi, trumpet; and Scott Shetler, saxophone; appear on four tracks. Bandleader Earl appears on five tracks while vocalist Toni Lynn Washington guests on four.
Blue contributes six originals. She opens with "That's What They Call The Blues" featuring a fabulous guitar solo from Earl. Earl appears again on "I Can't Shake You". Other songs written by Blue include "Someday Soon" and "Cry Daddy"; both featuring beautiful guitar from Gus and Limina on the B-3.
"Do I Move You" was written and recorded by Nina Simone in 1958 and odds on Blue will move you like she was moved when she first heard it. "I Love Your Lovin Ways" was also sung by Simone; on Blue's version she and Washington harmonize on the chorus. On Bobby Womack's "Nothing You Can Do" Blue and Washington trade verses and then harmonize again. Washington also sings background harmony to Blue's lead on "Day and Night".
"Soulville" was co-authored by Dinah Washington and a vocal duet with Dinah and Bobby "Blue" Bland; it was also covered by Aretha Franklin. Guitarist Earl joins in on "In The Dark" and on "Today I Sing The Blues" also sung by Franklin. On "Jump For Joy" , written by Koko Taylor, Blue and Washington again trade verses as they pay tribute to Koko "The Queen of The Blues". Earl's guitar, Limina's B-3 and the horn section make this song a fabulous production.
Take it from Earl as he only partners with the very best. Diane Blue has arrived as she has the most expressive voice since Toni Lynn.
Richard Ludmerer
https://youtu.be/O0fPIOmljT8