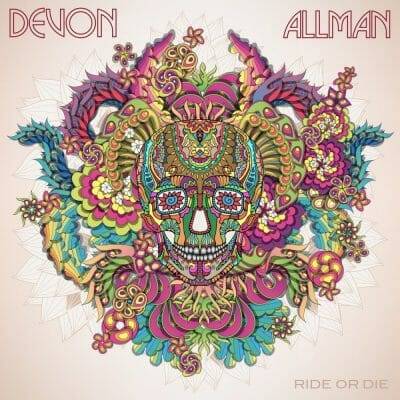 Devon Allman
Ride or Die
Ruf Records
Devon Allman is the son of Gregg but his music is all his own. Allman formed "Honeytribe" in 1999 but the band achieved its greatest success with their sophomore effort 2010's "Space Age Blues". That album included guest appearances by Huey Lewis and Ron Holloway. In 2011 Allman became a founding member of The Royal Southern Brotherhood. He appears on their first two studio albums both produced by Jim Gaines.
In February, 2013 Allman released his solo debut "Turquoise" also produced by Gaines. The following year Allman left RSB in order to focus on his own music. For his second album "Ragged and Dirty" Allman chose Tom Hambridge as producer.
"Ride or Die" is Allman's third studio recording and perhaps a concept album; "it's about finding your place in the universe" .This time the band includes Allman, guitars, bass, and vocals; Hambridge, drums; Tyler Stokes, guitars and bass; Steve Duerst, bass; Kevin McKendree, keyboards; Bobby Yang, violin; and old friend Holloway, saxophone. The album was produced by Allman while Hambridge is co-producer. The album was recorded in Nashville in May of 2016.
Allman has co-written five tracks with Stokes. On all of these the bassist is Duerst. The opener "Say Your Prayer" features a muscular vocal from Allman while he and Stokes share guitar chores. My favorite among these is "Find Ourselves" a mid-tempo tune featuring McKendree's organ and Holloway's sweet saxophone. "Galaxies" includes the lyric "when galaxies collide, will you ride or die".
The only song contributed by Hambridge is "Shattered Times" written with his regular writing partner Richard Fleming. Allman plays lead guitar, and McKendree, organ, while Stokes switches to the bass. This is another muscular vocal from Allman.
Five more songs were written solely by Allman. Allman switches to bass and he and Hambridge make a great rhythm section. On "Vancouver" Holloway again plays sax. The soulful "Hold Me" features some great piano from McKendree who switches back to the organ on "Live From The Heart". "Butterfly Girl" is a sensitive tune. These are among Allman's best vocals.
The only cover is "A Night Like This" written by Robert Smith and originally recorded by his English rock band "The Cure". Allman's version is a fitting closer to his artistic statement.
As a vocalist, songwriter and producer Allman just seems to get better and better. Check him out.
Richard Ludmerer