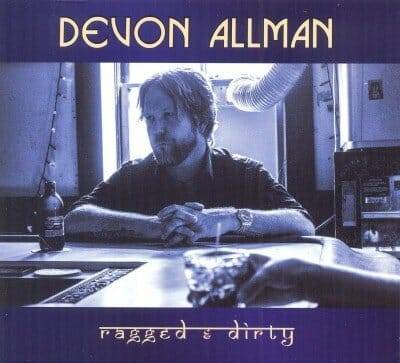 Devon Allman
Ragged & Dirty
Ruf Records
Devon Allman is the son of Gregg Allman and Shelley Kay Jefts. They divorced when he was still an infant. Devon began playing music as a teen and grew up listening to The Rolling Stones and Eric Clapton. Devon didn't actually meet his father Gregg until he was fifteen. Perhaps this is the reason why Devon has molded his own musical identity.
Devon formed Honeytribe in 1999. "Torch" was released in 2006 but 2010's "Space Age Blues" earned Devon significant praise. In 2011 he also became part of The Royal Southern Brotherhood, a super group including Cyril Neville, Mike Zito, Yonrico Scott and Charlie Wooten. Royal Southern Brotherhood's self titled first album was released in 2012. In 2013 Devon released "Turquoise" the first album under his own name. In 2014 Royal Southern Brotherhood's second recording "Heart Blood Soul" further established this unit as one of our best. In 2014 Royal Southern Brotherhood won a Blues Music Award for DVD of The Year for "Songs from The Road".
"Ragged and Dirty" is Devon's second solo recording. Recorded in Chicago the band includes Devon, lead vocals and guitar; producer Tom Hambridge, drums; Felton Crews, bass; Marty Sammon, keyboards; and Giles Cory, guitar. Cory also plays guitar with Mississippi Heat. Devon has written five new songs for this album. On "Traveling" one immediately notices Devon's soulful voice; not surprisingly he sounds a little like his dad Gregg. On "Midnight Lake Michigan" Devon's guitar evokes a cool dark serenity while Hambridge's drums add a bit of drama. "Leave The City" features Devon on a resonator guitar. Devon's is backed only by Hambridge and his vocal here is fabulous. The other originals are "Back to You" and "Blackjack Heartattack".
Devon's producer Hambridge, a 2011 Blues Music Award winner for Song of The Year, contributes four new songs. Three were co-written with Richard Fleming including "Times Have Changed". "Can't Lose 'Em All" was written by Hambridge and Lee Roy Parnell and it is one of my favorites on this fine album.
Devon also includes three covers. "Ragged and Dirty", the title track, is from Luther Allison; while "Ten Million Slaves" is from Otis Taylor. "I'll Be Around" was a 1972 hit for The Spinners; this is another beautiful vocal from Devon.
Devon Allman is at the beginning of what will be a long and meaningful career.
Richard Ludmerer