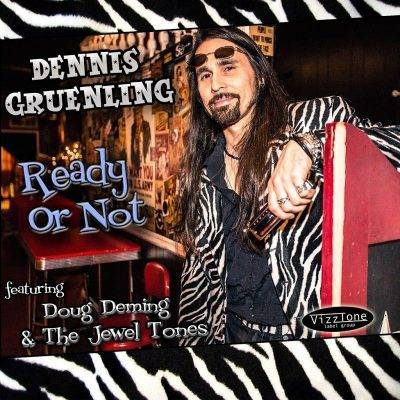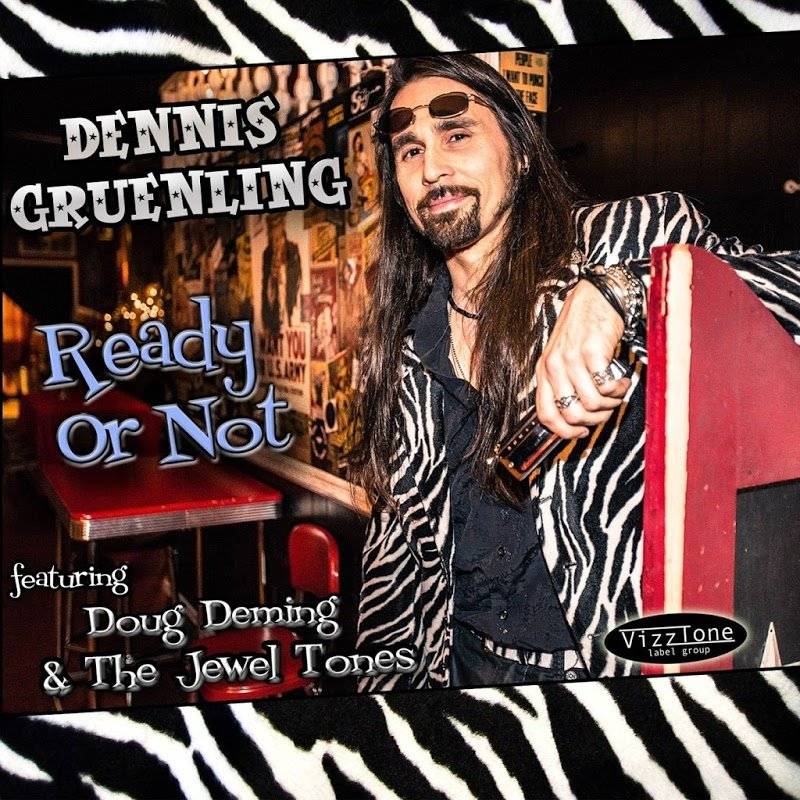 Dennis Gruenling fea. Doug Deming and The Jewel Tones
Ready or Not
Vizztone /Back Bender Records
The first time I ever saw Dennis Gruenling was at Mike Moss' "Blues 2000 and Beyond" at the old Playboy Club in Vernon, N.Y. He was the harp player who sat in with "Filthy Rich and The Poor Boys".
Gruenling also had his own band "Dennis Gruenling and Jump Time" and between 1999 and 2001 released three albums on his own Back Bender Records. Jump Time remained together for several years but did not record again. Often times Gruenling could be seen in a duo or band with guitarist Dave Gross.
Then in 2008 Gruenling released "I Just Keep Lovin Him: Tribute to Little Walter". That album included guest vocalists and fellow harpists Kim Wilson; Rick Estrin and Steve Guyger. The album was not only a tribute but it also established Gruenling as a "world class" harp player. Whenever Mark Hummel's Harmonica Revue came to New York City Gruenling would always be added as a special guest.
Instead of pursuing the idea of recording another album with "Jump Time" Gruenling found that he enjoyed playing with Doug Deming and The Jewel Tones. In October of 2012 The Vizztone Label Group released two albums "Dennis Gruenling Rocking All Day" featuring Doug Deming and The Jewel Tones; and "Doug Deming and The Jewel Tones What's It Gonna Take" featuring Gruenling. Both albums received world wide recognition.
Gruenlings takes a leap of faith as for the very first time we get to hear him sing. The band consists of Gruenling, harp and vocals; Deming, guitar; Andrew Cohman, upright and electric bass; and Michael Bram, drums and percussion. Guest musicians include producer Steve Conte, acoustic guitar and back ground vocals; Dave Keyes, piano and background vocals; Doug Sasfai, Saxophone; Matt Raymond, upright bass; and Gross, background vocals. All of the songs were written by Gruenling.
This is R n B, rock n' roll, and jump blues at its finest. On the opener "Knockin' My Knees" Gruenling sings several verses before even pickin' up a harp and his vocal is right on the money. Deming plays rhythm before ripping a lead guitar solo. Gruenling blows some great harp to finish out the tune. The title track "Ready or Not" is one of my favorites. Bram's drumming kicks off both "Simmer Down" and "Little Sugar". As expected the band is hot. "If You Want to Rock (You Gotta Have That Roll)" is a Louis Jordan styled tune with some great guitar from Deming. Gruenling's best vocals might be "Won't You Come Back to Me"; "Open The Door" and "Give Me Back My Heart".
Gruenling's harp is best on two original instrumentals "Rockin With The Rev" and the fabulous "Count Chromatic".
We have watched the combo of Gruenling and Deming, with the Jewel Tones, grow into a powerhouse. Expect nothing less.
Richard Ludmerer