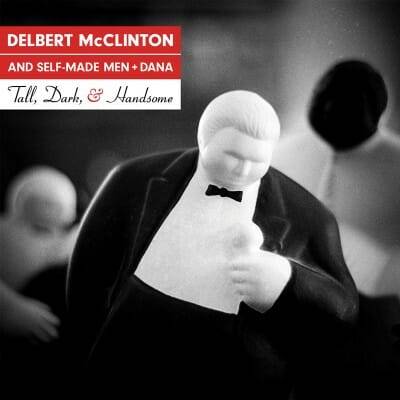 Delbert McClinton and Self-Made Men + Dana
Tall, Dark, & Handsome
Hot Shot Records
The Texas troubadour Delbert McClinton was born in 1940. He worked in a blues band that backed Sonny Boy Williamson II, Lightnin' Hopkins, Howlin' Wolf and Jimmy Reed. In 1962 McClinton played harmonica on Bruce Channel's "Hey Baby". Ten years later he partnered with Glen Clark to release two albums. In 1978 Emmylou Harris recorded his song "Two More Bottles of Wine". In 1980 McClinton had his own hit single "Giving It Up For Your Love". His 1989 album "Live from Austin" received a Grammy nomination. McClinton won his first Grammy in 1991 for a duet with Bonnie Raitt "Good Man, Good Woman". Two more Grammy Awards followed, both in the category of Best Contemporary Blues Album, for 2001's "Nothing Personal" and 2005's "Cost of Living".
This is McClinton's 26th album and it follows on the heels of his 2016 recording "Prick of the Litter". Vocalist McClinton is once again joined by the "Self-Made Men" featuring Bob Britt, guitar; Kevin McKendree, piano and B-3; and the new rhythm section of Glenn Worf, bass; and Joe Maher, drums. The rhythm section of bassist Michael Joyce and drummer Jack Bruno are featured on two tracks. The album is co-produced by McClinton, Britt and McKendree; and recorded at McKendree's Rock House Studio in Franklin, Tennessee. Numerous horn players, background singers and others guest throughout the recording.
The opener is a Big Joe Turner styled blues that hails the arrival of the dapper "Mr. Smith". Featured is a horn section that includes saxophonists Jim Hoke and Dana Robbins; Quentin Ware, trumpet; and Roy Agee, trombone. Completing the production are background vocalists Vicki Hampton, Wendy Moten, and Robert Bailey.
"If I Hock My Guitar" is a swampy tune about a down and out bluesman who contemplates pawning his guitar to get himself out of debt; Hoke is featured on baritone sax. On "A Fool Like Me", featuring a New Orleans second line beat, Hoke also plays clarinet and is joined by Ware and Agee. On both of these the background vocalist is the beautiful Delaney McClinton.
"No Chicken On The Bone" is a Django Reinhardt styled acoustic swinger featuring fiddle player Stuart Duncan formerly of The Nashville Bluegrass Band. "Let's Get Down Like We Used To" is a bit of Southern sentiment once again featuring Hoke on clarinet.
"Gone To Mexico" is a south of the border styled tango with guitarist Pat McLaughlin, as Britt plays slide guitar. The production includes Dennis Wage on Wurlitzer; McKendree on B-3, Hoke on clarinet and four background singers.
McClinton passes along some advice to a foolish friend on "Loud Mouth" featuring some barrelhouse piano from McKendree. He also tells us about his blues on the classic shuffle "Down in The Mouth"; before looking back on his life on another greasier shuffle "Can't Get Up".
McClinton continues to combine his blues with Americana. All of the songs are written or co-written by him as he makes the best music of his career, with the best band he has ever had. This is a fabulous recording.
Richard Ludmerer