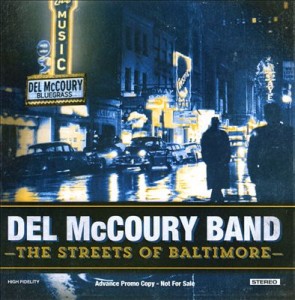 Del McCoury Band
The Streets of Baltimore
McCoury Music
In 1963 Del McCoury was the rhythm guitarist and featured vocalist with Bill Monroe and His Bluegrass Boys. His replacement was Peter Rowan. He recorded as Del McCoury and The Dixie Pals and in 1972 released his fifth album "High on a Mountain" on Rounder Records. I was into Gram Parsons at the time and naively nick-named McCoury, the country Gram. I didn't believe he would have minded.
In the 1980's McCoury's sons began performing with him and he renamed the band. In 1996 the band released "Cold Hard Facts" still on the Rounder label.
McCoury's interpretations of songs always floored me. In 2001 he recorded "Del and The Boys" and it featured his version of Greg Brown's "1952 Vincent Black Lightning". In 2002 it won Bluegrass Song of The Year. If you haven't heard it check it out.
McCoury has won 31 International Bluegrass Music Awards including four as Male Vocalist of the Year, nine as Entertainer of the Year, two as Instrumental Group of the Year, and at least three for Album of The Year. He has shared the stage with Phish, The String Cheese Incident, Donna the Buffalo and in 1999 recorded "The Mountain" with Steve Earle. McCoury's vocal delivery is old school but bluesy; his nasal tenor similar perhaps to Levon Helm.
The band is Del McCoury, lead, harmony vocals and guitar; Ronnie McCoury, lead, harmony vocals and mandolin; Rob McCoury, banjo; Jason Carter, harmony vocals and fiddle; and Alan Bartram, harmony vocals and upright bass. "The Streets of Baltimore" released last year is his 32nd album. The title track was written by Tompall Glaser and Harlan Howard and originally recorded by Bobby Bare in 1966. In 1973 it was recorded by Gram Parsons and Emmylou Harris and released on the album "GP".
Other songs featured include "Amnesia" written by Bill Anderson and Steve Wariner, Errol Garner's "Misty", Kris Kristofferson's "Once More with Feeling", and The Platter's "Only You". At 75 years young McCoury's voice sounds as good as ever on Vernon Thompson's "I Need More Time". McCoury also includes his own "Free Salvation". Six more great songs complete this fine album.
McCoury's sons also perform as The Travelin' McCoury's. Del is now one of the elder statesmen of this music. If you love bluegrass you have to own this.
Richard Ludmerer