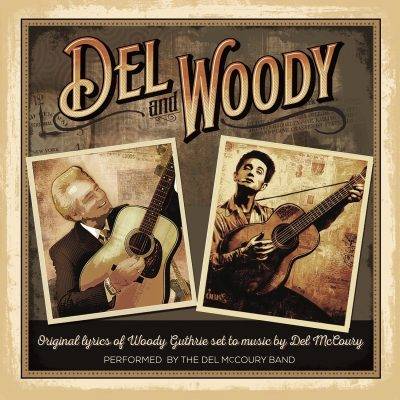 Del McCoury Band
Del & Woody
McCoury Music
Woody Guthrie (1912 – 1967) was a singer, songwriter and musician who wrote hundreds of songs. Many are today considered traditional but included were ballads, children's songs and political tunes. Best known is his song "This Land is Your Land". Guthrie was a big influence on other songwriters who followed him including Pete Seeger, Phil Ochs, Ramblin Jack Elliot, Bob Dylan, Johnny Cash, Tom Paxton, John Mellancamp, Bruce Springsteen and many others.
Guthrie wrote about his experiences in the Dust Bowl era during the Great Depression and published the novel "Bound For Glory". Although born in Oklahoma he later settled in Brooklyn, New York. He was also a member of The Almanac Singers a folk group and predecessor to The Weavers. He was married three times and fathered eight children including folk musician Arlo Guthrie.
After Guthrie's death his daughter Nora found hundred's of unpublished songs in his notebooks. Some of them were later recorded and released by Billy Bragg. Nora states that "when Del recorded with Steve Earle she really discovered him". Del was later invited to perform at a Woody Guthrie Centennial concert and Nora had the opportunity to hear Del sing a few of her father's songs.
This collection of Woody's lyrics was set to music by Del McCoury. Arlo states "the entire album goes back to a place and time that these days are an almost forgotten era. But, Del's high bluegrass voice brings it all back". Del was the rhythm guitarist and featured vocalist with Bill Monroe and His Bluegrass Boys in 1963. He went on his own and recorded as Del McCoury and The Dixie Pals until his sons joined him and in 1980 he renamed the band, The Del McCoury Band. Today the band includes Del, vocals and guitar; Ronnie McCoury, mandolin; Rob McCoury, banjo; Jason Carter, fiddle; and Alan Bartram, upright bass.
The opening track "The New York Trains" was previously released as part of an audio book "My Name is New York; Ramblin' Around Woody Guthrie's Town". The song was nominated for a Grammy at the 57th Grammy Awards for Best American Roots Song.
The other songs have titles like "Left in This World Alone"; "California Gold"; The Government Road"; "Family Reunion"; "Wimmen's Hats"; "Little Fellow" and "Hoecake Fritters".
After many years of sitting on a shelf Del McCoury brings these Woody Guthrie songs to life.
Richard Ludmerer