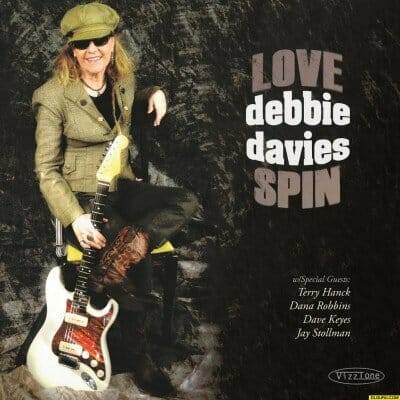 Debbie Davies
Love Spin
Little Dipper/Vizztone
In 1984 Debbie Davies played lead guitar in the all-female Maggie Mayall and the Cadillacs led by the wife of John Mayall. In 1988 Davies became a member of the Albert Collins Band. Davies appeared on John Mayall's 1990 album "A Sense of Place". Davies also appeared on the 1991 Grammy nominated "Albert Collins and The Icebreakers" album on Pointblank Records. Later that same year Davies left the Icebreakers in order to form her own band.
The Debbie Davies Band's first album was 1993's "Picture This" on Blind Pig Records. In 1997 Davies won a Blues Music Award for Contemporary Blues Female Artist of The Year. She took part in two fabulous collaborations 1998's "Grand Union" with Anson Funderburgh and Otis Grand; and 1999's "Homesick for the Road" with Tab Benoit and Kenny Neal. Davies has a total of ten BMA nominations and won a second time in 2010 as The Traditional Blues Female Artist of The Year. Davies' last studio recording was 2009's all instrumental "Holding Court" also on Little Dipper/Vizztone.
This is Davies' fourteenth album overall. The band on this newest album is Davies, vocals and guitar; Don Castagno, drums; Wilbo Wright, bass; and Paul Opalach, organ and lap steel. The album includes four new Davies' originals. The opener "Life of The Party" is followed by the title track "Love Spin". Davies always plays in support of "the song". On "I Get The Blues So Easy" performed with saxophonist Terry Hanck, Davies sets the rhythm before taking her guitar solo. I guess that might be why her last BMA was in the traditional category.
Castagno has been Davies' drummer for many years but he also writes many of her songs and he contributes five new ones. "Let The Heartaches Begin" is performed as a vocal duet between Davies and saxophonist Hanck. "Don't Change It Up" is another duet but this time Davies sings with Jay Stollman. "It's All Blues" and "I'm Not Cheatin' Yet" are performed with saxophonist Dana Robbins. "Two Twenty-Five-Year-Olds" features Dave Keyes on piano; I love the tone Davies' gets on her guitar.
The two covers include Lenny McDaniel's "Talk Real Slow" and Swedish bluesman Sven Zetterberg's "A Darker Side of Me". The later is about addiction and Davies identifies strongly with the tune placing a jazzy spin on it.
I have always loved Davies; her voice and her interesting guitar lines. Davies took her time and has given us another great album.
Richard Ludmerer