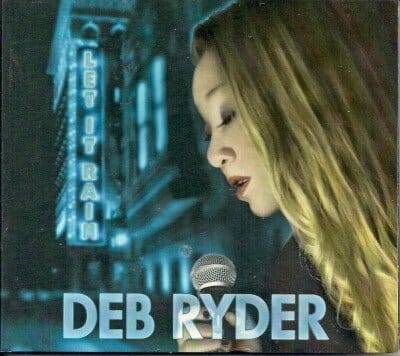 Deb Ryder
Let It Rain
Bejeb Music
As a youngster Deb Ryder hung out at her step-fathers nightclub "The Topanga Corral". While still in her teens she opened for The Canned Heat's Bob Hite, Charlie Musselwhite, Taj Mahal, and her biggest influence Etta James. Her debut album was 2013's "Might Just Get Lucky".
For her sophomore effort Ryder couldn't get any luckier than to have Tony Braunagel as producer. Braunagel's production credits include Taj Mahal's Grammy Award winning "Shoutin in Key". As a drummer Braunagel has been a longtime member of both (Taj Mahal's) The Phantom Blues Band and of The Robert Cray Band.
The band for this recording features, Braunagel, drums; Ric Ryder, bass; Mike Finnegan, keyboards; Johnny Lee Schell and Kirk Fletcher, guitars; and the horn section of Lee Thornburg, trumpet and trombone; and Lon Price, saxophone.
All of the songs are written by Ryder. The album opens with the soulful "That's Just How It is". The rhythm section of Braunagel and bassist Ryder lay down the strong foundation that enables Fletcher's guitar, and Finnegan's Hammond B-3.
"Can't Go Back Again" is a shuffle featuring the horn section and soloists Finnegan and Thornburg on trombone. The whole band swings on "You Won't Be True" with solos from Fletcher and Finnegan. All of the horn arrangements are by Thornburg.
Guest Kim Wilson, harp, is featured on "Guilty as Sin" about a woman done wrong. The song opens with a guitar crawl similar to "scratch my back" but settles down nicely. Schell and Finnigan chant "guilty, guilty" in the background. This is among my favorite songs on this album.
Ryder gets into a gospel groove on both "Cry Another Tear" and "Hold Your Lamp High". On the former, organist Finnegan takes us to church. On the later, Fletcher's guitar sets up the rhythm while Thornburg's horn arrangement and subsequent trumpet solo adorn the production. "Lamp" is another of my favorites.
The title track "Let It Rain" features both Fletcher on guitar and Wilson on harp. Braunagel hammers out a Cajun beat on "Ma Misere". The album closes out with the Delta sounding "Round and Round" with Schell on a national guitar augmented by Wilson on harp.
Braunagel's fabulous production highlights Ryder's talents. This cd should ignite the career of Ryder who seems to have it all.
Richard Ludmerer