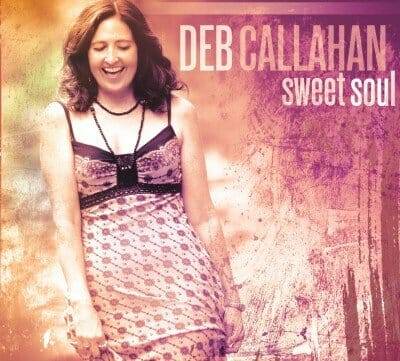 Deb Callahan
Sweet Soul
Blue Pearl Records
Deb Callahan is from the Boston area where at an early age she studied African American music and art. It was at the age of twenty that she first sang in a blues rock band. She moved to Philadelphia to pursue a career in social work and didn't resume performing until 1995. At that time she began to sing songs by Bessie Smith, Victoria Spivey and others. She formed the Deb Callahan Band in 1997. Callahan released her first album "If The Blues Had Wings" in 2002. Her follow up recording was 2005's "The Blue Pearl". Her songs are mostly original material that combines New Orleans rhythms, with delta blues and gospel influences. In 2008 Callahan released "Grace and Grit". Her last studio recording was 2010's "Tell It Like It Is".
This is Callahan's fifth cd. The band on this recording includes Callahan, vocals; Grammy winning producer Tony Braunagel, drums and percussion; Mike Finnigan, organ, piano and background vocals; Johnny Lee Schell, guitar and background vocals; Reggie McBride, bass; Allen James, guitar; Jimmy Powers, harmonica; and additional background singers Teresa James, Leslie Smith and Lydia Hilliard.
Callahan has written eight new originals for this recording; four of them co-written with her guitarist James. McBride's bass opens "Big Love"; then in comes Finnegan on the organ as he takes us to church. James takes a terrific guitar solo. Love is further explored in a variety of ways on "I Am Family"; "Born to Love You" and "Seven States Away".
Callahan has co-authored three more songs with Chris Arms. On "I Keep Things Running" Teresa James, Finnigan, and Smith join Callahan on the refrain and the song turns into a wonderfully soulful performance. Schell plays some terrific slide guitar on "Shackin Up".
Braunagel has also chosen some great songs for Callahan. Included are her versions of Candi Staton's "Sweet Feeling"; Tom Waits' "Way Down in The Hole"; David Egan's "You Don't Know Your Mind" and Dr. John's "I Been Hoodood".
There is a great vibe throughout this fine new album from Callahan.
Richard Ludmerer