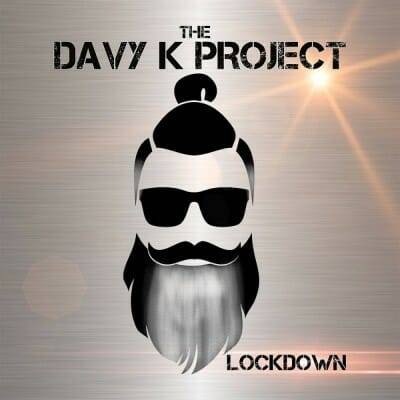 Davy K Project
Lockdown
There are certain places in the world that have deep connections with music. Places like Memphis Tennessee where rock n roll was born. Then you have Nashville, the home of country and of course Clarksdale; the home of Robert Johnstone and the cradle of the blues. There are other places – Northern Ireland and the surrounding areas has something special going on there too.
It boasts of a who's who in the world of music in general. Names like Rory Gallagher, Van Morrison Gary Moore, The Undertones and Snow Patrol.All the above are known around the world. Then we have a wealth of emerging talent with the likes of Dom Martin leading that charge. But for this review we are going to Castlederg in County Tyrone Northern Ireland.
This is because that's the home of a guy by the name of Davy Kerrigan, a down to earth humble man. A man known to don a red Gibson SG. A transformation takes place and all hell breaks loose. Then it's not "Davy Kerrigan" that's onstage – It's the "Davy K project". A tight 3 piece rocking band, that on their day can stand toe to toe with the very best in the world of music. Now to the songs…
"Lockdown" is a collection of nine powerful songs, each one with its own mood and story to tell. It would be impossible to single one or two songs as highlights on the album. However, let's give you a flavour of what Lockdown has in store for you.
I'm going to focus on four of the songs. It really could be any four because there are no weak tracks on this album.
"The Loner" is the opening track on the album, it gets things off to a flying start. The rocksteady beat of Marty Grieve on drums, the pulsating beat of Mark McConnell on bass, and the man himself Davy K on lead vocals and guitar. A fine piece of blues rock.
"Funny How" – lyrically this song could be the personal story of any one of us. It's about making the right life choices. Never giving up and following your dream until it finally happens. Wise words indeed.
"The Storm" complete with sound effects is a gritty piece of rock n roll. Again, the lyrics talk of walking down a long open highway, facing into a storm but having no fear. It could be the story of our daily lives. You have to able to cope with the dark days in order to see the sun shine again.
"Pray" – the guitar playing on this song is almost hypnotic, there's a reason for that too. The lyrics talk about control, whether it's our smartphones or the televisions or indeed the church. It's all about the need to control the masses.
That's enough said from me . I highly recommend this album. Well crafted songs with a driving beat and lyrics that make you think.
Gerry Casey