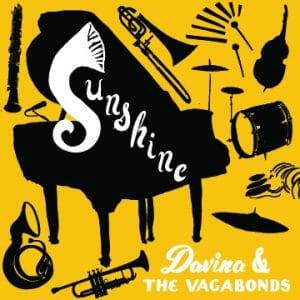 Davina & the Vagabonds
Sunshine
Roustabout Records
I first heard Davina & The Vagabonds at Boston's On The Beach in Delray Beach, Florida. Originally from Key West Davina Sowers spent her formidable years in and around Minnesota's twin cities where she studied to be a classically trained pianist.
Sowers is a prolific songwriter and her pop songwriting style has an Amy Winehouse type of edge. Her own band performs without a guitarist but instead employs a horn section which gives them a New Orleans groove. Her band currently consists of Daniel Eikmeier, trumpet; Benjamin Link, trombone; and the rhythm section of Andrew Burns, bass; and Connor McRae, drums. Guest musicians include Zach Miller, vibes; and Tony Balluff, clarinet.
Davina & the Vagabonds last album released in 2011 was the critically acclaimed "Black Cloud". "Sunshine" is their fifth recording. Sowers has written 9 new songs for this project. The album opens with the title track which sounds to me a bit like Laura Nyro. The lyrics "Finally got my feet back on the ground" immediately catch the listener. The lines are first punctuated by Link's trombone and then Eikmeier's trumpet. The song is well produced.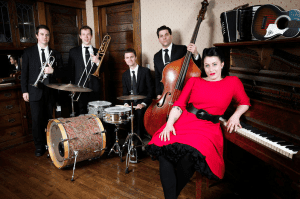 "Flow", and "Fizzle Out", have an almost ska type sound. "Away From Me" is a poignant tune featuring Sowers piano and the line "blues took you away from me". "I Try to be Good" has a rumba beat "this girl is just no good". On "You Better Start Praying" the band sounds like The Preservation Hall Jazz Band. "Red Shoes" is about going out dancin'. "Throw It to The Wolves For Love" once again has that New Orleans sound.
Covers include "I'd Rather Drink Muddy Water" written by Eddie Miller and recorded by everyone from BB King to Aretha Franklin. "You Must Be Losing Your Mind" is from Fats Waller. "Heavenly Day" is from Patty Griffin and features a drum solo from Connor McRae.
On all of the songs the horn arrangements are just fabulous and the bonus track "Under Lock and Key" is no exception. Sowers is certainly one to watch as she is destined to achieve wider recognition. The band performs 300 dates a year. Be sure to catch them when they blow through your town.
Richard Ludmerer