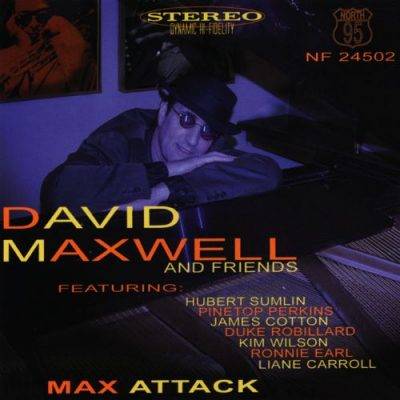 David Maxwell & Friends
Max Attack
A tribute to David Maxwell (March 10, 1943 – Feb. 13, 2015)
David Maxwell has apprenticed and is the most in demand blues piano player today. David appears on albums by James Cotton, Ronnie Earl, Joe Louis Walker, Louisiana Red, Luther Guitar Jr. Johnson, Jimmy Rogers, Bob Margolin, Paul Oscher, just to name a few. His first cd was the critically acclaimed Maximium Blues Piano, an instrumental showcase, on The Tone-Cool label. He has just released " Max Attack" on Dixie Frog Records and I have listed it as one of the Best New Blues Releases of 2003. Is is sub-titled David Maxwell and Friends and includes performances by Liane Carroll, James Cotton, Ronnie Earl, Duke Robillard, Kim Wilson, Pinetop Perkins, and Hubert Sumlin.
David finally let's us hear him sing and he possesses a rich baritone voice, but it's his piano playing that is most notable. David seems to have absorbed the piano stylings of Otis Spann, among others, with whom he was able to study with early on in his career.
In 1972 David became the piano player in Freddie King's band and in 1977 joined The James Cotton Band. Later David became the piano player for Ronnie Earl & The Broadcasters before re-joining James Cotton. On January 30th David will once again be featured in The Howlin' Wolf Tribute Band with Hubert Sumlin, when they will appear at BB King's.
David's piano playing is in the "deep down' Chicago style. The opening song "Backseat of a Greyhound Bus" has not only got David's deep down piano but also his deep down voice. Straight forward and totally believable David eloquently elevates himself to be the most important blues piano player today.
"Twisted Tendons" is an instrumental in the Otis Spann style. James Cotton says ""David Maxwell plays with fire and soul. He keeps the spirit of Otis Spann alive". "Long Distance Driver" is reminiscent of The Muddy Waters Blues Band and features James Cotton on harp. David writes all the songs here, most notable is "Moving Out of his World", and "Thanks for All The Women".
Otis Spann's piano playing included an almost barrelhouse roll and it can be heard especially well on "Coming Home, Baby". The vocal and guitar here are by Hubert Sumlin. The barrelhouse roll can be heard again on "Hip House Rock", another fine instrumental.
"Thank you Pinetop Perkins" is a tribute to David's friend and our 90 year old national treasure, Pinetop Perkins. It is a piano duo between Max and Top. I recently met Pinetop Perkins in the WFDU studios during an interview he was having. He spoke of his years with Muddy and his love of fishing. The cd is beautifully produced by Tino Gonzalez and should be in every blues piano collection.
P.S. Originally released on the Blue Max label (U.S.) in 2003 (and Dixie Frog, for International distribution), and re-issued on 95 North Records in 2005. The cover photo is from the 2005 release. The songs on the newer version were the same but the order was changed.
Richard Ludmerer
[amazon_link asins='B0007KTB4O' template='ProductCarousel' store='maasc-20′ marketplace='US' link_id='83113751-f1a9-11e7-ba81-156c15ca43e3′]