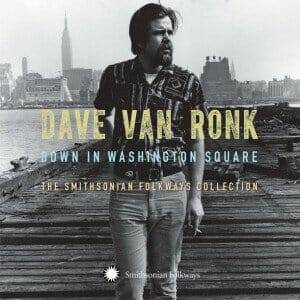 Dave Van Ronk
Down in Washington Square
The Smithsonian Folkways Collection
As an adolescent my interest in music progressed from The Kingston Trio to The Weavers, Pete Seeger, Bob Gibson, Ian and Sylvia, Joan Baez, Phil Ochs, Mississippi John Hurt, Reverend Gary Davis, The Blues Project, and Dave Van Ronk. As a guitar student I would often listen and re-listen.
Van Ronk, with his gruff voice was an acquired taste. At times his voice was absolutely beautiful. The contrast caused me to develop an appreciation for a good song and to love different versions of the same song. I often write about music from different genres but the common denominator are a good song and/or ensemble playing.
Van Ronk (1936 – 2002) was prominent in the Greenwich Village music scene. He mentored younger musicians including Bob Dylan and Joni Mitchell. Smithsonian Folkways has just released this 3 CD set which includes fifteen previously unreleased recordings. Van Ronk also transcribed old jazz tunes into a traditional finger picking guitar style. Besides recording for Folkways he also recorded for the Prestige, Mercury and Verve Record labels, and fronted both the Ragtime Jug Stompers and the Hudson Dusters. Last year the Coen Brothers released the film "Inside Llewyn Davis" which is inspired by Van Ronk's autobiography "The Mayor of MacDougal Street".
The first disc opens with "Duncan and Brady" a traditional murder ballad which originally appeared in 1929. Van Ronk's version was recorded in 1959. "River Come Down" was co-written by Van Ronk and also recorded by Peter, Paul, and Mary on their debut album. "John Henry" is about the digging of the Big Bend Tunnel in West Virginia; there are 200 different versions of this song. "Just a Closer Walk With Thee" is a New Orleans Jazz standard featuring Dick Rosmini on second guitar. "Gamblers Blues" is an early version of "St. James Infirmary". "Bed Bug Blues" comes from Bessie Smith. "Winin' Boy" is credited to Jelly Roll Morton. The emotive "Come Back Baby" might just be my favorite Van Ronk song.
Discs two and three include "Dink's Song" originally collected in 1908 by music historian John Lomax and used in the movie "Inside Llewyn Davis". "Santy Anno" also known as "Santiano" is a sea shanty that dates back to the 1850 war between the US and Mexico. "Hesitation Blues" is from the Reverend Gary Davis. "Stackalee" was popularized by Lloyd Price in 1959 but dates back to 1897. "Another Time and Place" was written by Van Ronk. "Motherless Children" is a standard also recorded by Eric Clapton. "Buckets of Rain" was written by Bob Dylan.
There are 54 songs in all. The accompanying booklet is compiled and notated by Jeff Place. This is the ultimate Dave Van Ronk collection.
When Van Ronk started in 1957 he would spend his Sundays at Washington Square Park in Greenwich Village. Often times notable musicians would be jamming around the fountain. In the early sixties I used to bring my guitar and often encountered John Herald, Ralph Rinzler and other Greenwich Village musicians.
"Down in Washington Square" was the last song Van Ronk ever wrote. "Sunday when the clock strikes noon…bring your axe and wear your shades…They're jamming on the barricades…beatnik poets with conga drums, bluegrass picking and flamenco strums…if you bought that banjo yesterday, it doesn't matter if you can't play…wear your big hoop earings and your leotard 'cause we're gonna rub elbows with the avant-garde…down in Washington Square".
Richard Ludmerer