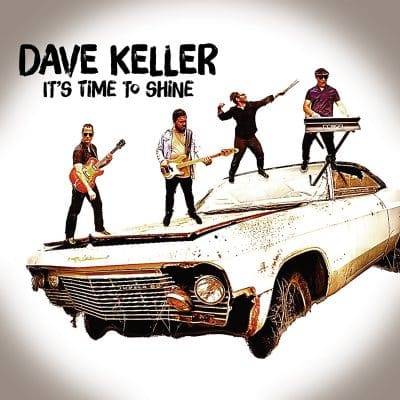 Dave Keller
It's Time to Shine
Tastee Tone
In previous reviews of Vermonter soul/blues artist Dave Keller, this writer recalls a quote from Keller about preferring to be a big fish in a small pond than an artist competing with many in the same locale. Do you know any other national blues artists from Vermont? Probably not but you should know that Keller has received three BMA nominations for Best Soul Blues Album. You may also want to know that he counts Johnny Rawls and Ronnie Earl among his closest mentors. He tours the U.S. and Europe too. If you're not yet convinced (and even if you are), then you owe yourself a listen to his newest release, his tenth, It's Time to Shine, recorded live on the floor in one room in a rustic mountain cabin on the New York-Canadian border with his road-tested band. Huck Bennett, longtime engineer for Ronnie Earl, showed up with all kinds of recording gear to deliver what has resulted in crystalline sound.
Keller on vocals and guitar, wrote the album's dozen originals (no filler here) and fronted his band of Ira Friedman (keyboards), Jay Gleason (drums, percussion), and Alex Budney (bass).  Added in later were horns from Mark Earley (tenor and baritone sax), Tom Palance (trumpet), and backing vocals from Annika Chambers-DesLauriers. The power of Keller's soulful vocals and his dynamic band are on full display in the potent rocking opener, "Waiting for the Sunrise."
The organ drenched "The Truth of the Blues" sustains this high-level energy, capped with a searing guitar solo that threatens to blow the roof off that wooden cabin pictured on the inset. The tightness of the band and these infectious grooves are certainly enough to get one dancing but there are some powerful lyrics as well with Keller, a Caucasian, explaining the plight of African Americans in just three verses, beginning this way – "All this silence is getting way too loud/All this violence, and you still feel proud/Tell me where do you stand?/Are you just part of the crowd?" and capping it with this – "What part of kindness don't you understand?/All this blindness is the truth of the blues."
The mid-tempo soul tune "789-0133" begins with Earley's baritone sax and features Palance and Chambers-DesLauriers as well framing Keller's emotive vocal. As to the phone number, your guess is as good as mine but if nothing else, think of it as a takeoff on Eddie Floyd's "634-5789."  The title track could well become the joyous soul-blues anthem of the year. It's a post-pandemic and community rallying cry – "time for all of us to come out into the light and shine."  "I Wanna Go Back to Memphis" echoes that Stax sound, especially with the backing vocal and the slathering of horns. This one does not have to take a back seat to any song, as good as the many that have been written about the city.
The second half of the album delves into the age-old theme of love between a man a woman, beginning with his crooning ballad, again underscored by the horns and Friedman's B3, "The First Time With You." The snappy "Nothing Like Your Love" is another well-crafted jubilant soul sing-along, buoyed by Friedman's swirling B3 and punchy horns. Gleason's beats steer us right to the dance floor for the roaring "Paint a New Life Together" while the syncopated "Full Measure of Pleasure" plays to the male braggadocio theme so often heard in blues tunes here rendered in Keller's trademark soul-blues style. "Mayor of Memory" is a clever way of remembering not only the good things but the missteps in a relationship with Keller as convincing as can be, pausing long enough to give Friedman a lengthy B3 statement, punctuated by his own fret work.  That deep southern soul (from a Vermonter no less) is the essence of "Something 'Bout a Sad Song," which has one of his strongest full-throated, heartfelt vocals with each guitar note just right and downright goosebump inducing.  The closing "Hard to Believe" brings the contagious energy that threads through the entire program with his band at full throttle in support of his gutsy vocal and spiraling guitar.
Yes, Vermont boasts one of today's best soul-blues singers and songwriters. Every Keller album is just a little better than the last one. He's set the bar very high with this one. Maybe he'll get that elusive Award this time after his three nominations. This writer hasn't heard a better soul-blues effort this year.
Help Support Making a Scene
Your Support helps us pay for our server and allows us to continue to bring you the best coverage for the Indie Artists and the fans that Love them!
Make a one-time donation
Make a monthly donation
Make a yearly donation
Choose an amount
Or enter a custom amount
$
---
Your contribution is appreciated.
Your contribution is appreciated.
Your contribution is appreciated.
Donate
Donate monthly
Donate yearly
You can donate directly through Paypal!
Subscribe to Our Newsletter