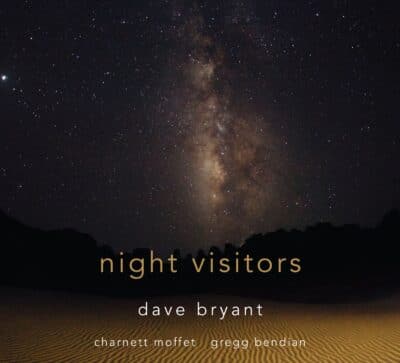 Dave Bryant
Night Visitors
SE
There are plenty of free jazz, improvisational ensembles that are doing great explorative work yet some, at least for many listeners, are just not quite accessible enough. By now, if you've gotten this far, you know that we've covered plenty of free, avant-garde material, but you may not realize that they are carefully chosen. Many don't make the cut as this is a wide-ranging musical magazine, not dedicated to any one genre. So, with that prelude we bring you pianist, keyboardist, composer and electronic musician Dave Bryant's Night Visitors, debuting a new trio with a stellar rhythm section. Bryant is one of the few keyboardists the pioneering Ornette Coleman ever performed and recorded with. Appropriately Bryant celebrates the compositional and improvisational methodology of the late saxophone titan. Fans of Ornette's recordings with Prime Time will immediately recognize the sweet-and-sour harmolodic sounds that permeate the eleven tracks on Night Visitors. Bassist Charnett Moffett and multi-percussionist Gregg Bendian join forces with the ex-Prime Time keyboardist to take harmolodics into uncharted musical waters, attuned to each other's melodic invention, their individual lines embracing anew when they meet to resolve a theme.
Gleaning the track credits alone lets you know this is not the usual jazz trio. Bryant plays piano and keyboards (lots of them) while Moffett plays mostly acoustic bass except on "Chihuahua Pearl" where his electric bass is superb. The major key to the variety of sounds here though is percussionist Bendian who plays drumset, doumbek, glockenspiel, and percussion. The undeniable creative chemistry between these three seasoned improvisers is evident from the first moments of the album's first track. And, it's accessible due to its flashes of electronics, and nods to progressive rock and blues. Most of these tracks emit explosive inspired energy and a vivid joy of playing music in-the-moment.
The first track, "Lime Pickle" started its life as an exercise for Bryant's students. The bass line employs all twelve tones of the chromatic scale. A near-inscrutable and somewhat jarring rhythmic turnaround gives this trio version a manic, skittering feel in contrast with the melody's rhapsodic quality. The result is piquant and spicy with a lingering flavor; much like its namesake, an Indian condiment. Bendian and Moffett are full-on from the first note, never letting up or boiling over. A dedication to comic book artist Jim Steranko (a friend of both Bryant and Bendian) for his 80th birthday, "Scorpio 80" stands out as the only overtly straight ahead, blues-based tune on the recording.
The album's sole cover tune, "Dee Dee" was written by Ornette Coleman for jazz photographer Dee Kalea, with whom the saxophonist had close familial ties. One of Coleman's giddy up-tempo themes, Bryant gives the tune an organ trio interpretation. The incredibly flexible musicianship displayed by both Moffett and Bendian on this piece reinforces the sense that they may be two of only a very small handful of musicians on the planet who can comfortably embrace free jazz, jazz-rock, harmolodic concepts, and the grits-and-gravy '60s funky organ trio thing.
The longest piece is the meandering "The Night Flock," memorable for its many sounds but especially Moffet's incredible work with the bowed bass, mimicking bird and animal sounds. Closing the album on a mysterious, introspective note, "Three Night Visitors" is a three-part suite that combines spontaneous improvisation and predetermined compositional elements in a seamless continuum. Several of the piece's most important features, such as Bendian's use of the glockenspiel and dumbek and Moffett's unifying ostinato, were conceived on the spot. Distinctive electronic effects on the lead keyboard sound impart a shimmering 'desert mirage' effect.
Many tremble when seeing these two words – free jazz. Don't be intimidated. There's plenty here for fans of all kinds of genres to latch onto. It's fun and can lead your mind to some interesting visual images. Give it a concentrated listen and you'll be rewarded.
More About the Artist:

A Virginia native who gravitated towards more adventurous modern jazz, Bryant was fascinated early on by Ornette Coleman's music. After graduating from Berklee in 1983, Bryant initiated a correspondence with Coleman and then went on to study informally with him for the next several years. Bryant's first recording was the pioneering avant-garde jazz-rock trio album Shock Exchange in 1986. An unfettered and energetic foray influenced by harmolodic music theories, the album jacket featured enthusiastic liner notes by Coleman. Bryant worked with Coleman off and on through the 1990s, mostly as a member of Prime Time, and appeared on Coleman's 1995 album Tone Dialing (Harmolodic/Verve Records).

Bryant first encountered bassist Charnett Moffett while touring with Ornette in the mid-1990s, and they all later jammed together at Coleman's home. The two were reunited by chance in 2017 in an ad hoc quartet assembled by Denardo Coleman for guitarist (and Prime Time bandmate) Bern Nix's memorial service.

Bryant's contact with Bendian, on the other hand, seemed predestined. Both avid comics readers, they met through legendary artist Jim Steranko. They soon discovered many mutual musical interests, including '70s fusion and progressive rock. Prior to Night Visitors, Bryant and Bendian played together on several live gigs in Boston.