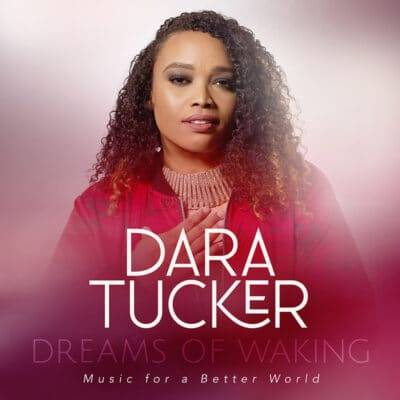 Dara Tucker
Dreams of Waking
Green Hill Productions
The blues readers of these pages probably know the name Dara Tucker, ostensibly a jazz vocalist on this outing – Dreams of Waking – Music for a Better World. She co-wrote and sang on the title track for 'Keb Mo's Grammy winning Oklahoma.  Tucker indeed hails from that same state.  On that track they referenced racial issues and later the Black Market and massacre that gave rise to the term Juneteenth. So, it is not at all surprising to see Tucker draw heavily from the protest music of the '60s and '70s here. As an aside, so many female jazz vocalists are associated with The Great American Songbook that initially it was tempting to say "more contemporary fare" only to realize that many of her selections are fifty years old too.  Is there a second version of the Great American Songbook for the next generation?
Okay, so we have a couple from Stevie Wonder as well as songs from Donny Hathaway, Paul Simon, Randy Newman, Carole King, James Taylor, Marvin Gaye, and more. Amidst this dozen, we have just one Tucker original.  These are all aimed at raising consciousness about social justice and seeking unity. She says, "Dreams of Waking refers to the hope that our society will develop an awareness of the inequities that still exist. It's the dream that we will become fully conscious and attuned to the hopes, dreams and needs of every human being."
Tucker has assembled an incredibly elite team of backing musicians for this project which puts a jazz lens on so many familiar tunes.  Two esteemed pianists, Cyrus Chestnut and Sullivan Fortner, appear on select tracks as is the case with bassists Dezron Douglas and Vicente Archer as well as drummers Johnathan Blake and Joe Dyson. Horn contributions come from saxophonist John Ellis and trumpeter Giveton Gelin.
Tucker's original "Do We Sleep?" decries apathy, calling for a cultural awakening, posing the question as to whether silence translates to complicity. James Taylor's "Secret O' Life" is rendered as a jazz waltz while most cover songs also take on interesting arrangements, courtesy of mostly Chestnut and Fortner while Ellis arranged the horn parts and Wonder's "You Haven't Done Nothin'." Chestnut's arrangement and rather rare use of Fender Rhodes on Hathaway's "Someday We'll Be Free" allows the nuances of Tucker's voice to shine through as she sings the tune hopefully when it could just as easily be translated angrily.  Similarly, Ellis's arrangement mitigates some of the rebellious tone of the original by giving it a NOLA buoyancy.  Fortner finds a balance between the calling out divisiveness emphatically and stressing the need for a steady course, which Tucker deftly navigates and at times soars on her epic take of "Bridge Over Troubled Water," imbued also by strong solos from trumpeter Gelin and Ellis on soprano.
She delivers her own arrangement of the standard "Make Someone Happy," and Chestnut's for Bacharach/David's "What the World Needs Now." The prototypical protest song of the era, Marvin Gaye's "What's Going On" would be a requisite in this context and Fortner's arrangement makes it a standout, brimming with robust ensemble horn parts, his own terrific comping and soloing, and succinct, expressive solos from both Ellis and Gelin. Tucker delivers a tender reading of Stevie Wonder's "Love's in Need of Love Today," one we understandably see on several albums lately, with this version proving to be a showcase of Chestnut's shimmering piano, which he also lends to the straight-forward take of Carole King's "You've Got a Friend." At this point you may well just easily peg Tucker as a soul singer rather than a jazz vocalist when she then reveals her church roots of gospel, positively wailing on the traditional "Wade in the Water," marked by Blake's signature drum technique and Chestnut's lively piano. She exits quietly in almost prayer-like fashion with the aptly chosen Randy Newman "I Think It's Going to Rain Today," in a lovely delicate duet with Fortner, who arranged the tune. It's reflective of the kind of work that has brought Fortner so much acclaim with jazz vocalist Cecile McLorin Salvant.
Sometimes the best way to appreciate an artist that one is just getting acquainted with is through familiar material. Tucker brings strong messages but delivers them elegantly and gracefully, without a trace of the preachiness that often turns listeners away from protest fare.